Not Everyone Is Happy With Company Names on Business School Buildings
by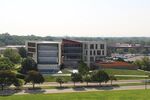 The headquarters of University of Kansas-Lawrence's School of Business is getting a new name, and not everyone is happy about it. Capitol Federal Hall will be named after Capitol Federal Savings Bank, which made a $20 million gift to the school through its foundation. Kansas alumni expressed their opinions on Twitter:
Over the last five years, buildings or centers named after for-profit companies have opened at prominent schools across the country, adding a corporate flavor to campuses previously distinguished by their most generous alumni. There's Wells Fargo Hall at UC-San Diego's Rady School of Management; PACCAR Hall at Washington's Foster School of Business (named for the truckmaker); and Houston's Bauer College of Business named its Insperity Center after the human resources company. The Florida Atlantic College of Business executive education building is now called the Office Depot Center, perhaps to the confusion of hockey fans.
This doesn't always go well. Like big checks from wealthy alumni, corporate donations can put administrators and fundraisers in a difficult position if the company gets caught up in scandal. The University of Texas Board of Regents, for instance, places extra scrutiny on buildings that are renamed for corporations. Most recently, a private prison company accused of mistreating prisoners pulled its gift to name the football stadium at Florida Atlantic University after intense student opposition.

The practice of putting corporate names on campus buildings goes back at least three decades but is accelerating, says John Lippincott, president of the Council for Advancement and Support of Education. More individual donors are pouring their dollars into scholarships and research, he says, leaving schools scrambling to fund construction projects. About 40 percent of donor's gifts to schools went to capital projects last year, down from 46 percent a decade ago, according to a report by the Council for Aid to Education.
"Many sophisticated donors, younger ones and more entrepreneurial donors, are much more focused on funding people or programs, not buildings," says Michael Morsberger, vice president for development and alumni relations at George Washington University. Naming gifts typically have to be large enough to cover half the money that schools expect to raise on their own for a building, Morsberger adds.
Gift agreements between donors, especially corporate ones, and universities typically include clauses that address how to respond if scandal strikes, Lippincott says. Individuals are not immune to controversy, either. Seton Hall's Stillman School of Business scrubbed former Tyco International Chief Executive Dennis Kozlowski's name from an academic building in 2005 after he committed a $137 million fraud.
"The question a university should be asking itself is, 'Will we feel good 20 years from now about that name on that building?'" Lippincott says. "Ultimately it's brand association between the university brand and the corporate brand."
Kansas says it won't use Capitol Federal's logo or color on the building, just the name. John Dicus, Capitol Federal's CEO who graduated from the business school, says he hopes the name will encourage university faculty, students, and their parents to do business with the bank. Still, he adds, "If I was in [Kansas's] position, I would have had concern. It is a little pressure to make sure as a business you're doing the right thing."
Business school buildings or centers recently named after companies:
Before it's here, it's on the Bloomberg Terminal.
LEARN MORE