Acadian's Quants Tag Russia's Micex as Top Equity Pick
Boris Korby and Jenna M. Dagenhart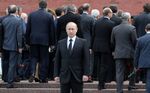 Acadian Asset Management LLC, the $70 billion money manager that employs computer-driven models to pick investments, is loading up on Russian stocks.
After plunging to the bottom of Acadian's list of 23 emerging equity markets in mid-March amid President Vladimir Putin's takeover of Crimea, Russia is now the most attractive developing-nation for the Boston-based investment adviser.
While Acadian joins a growing list of firms from JPMorgan Chase & Co. to Citigroup Inc. that are bullish on Russia, the method it used to make the call is different. The money manager's quantitative model uses more than 20 indicators ranging from valuation and risk to liquidity and funding stresses to forecast future returns for developing nation stocks. Russia is "screamingly cheap," according to fund manager Matthew Rothman.
"What has changed since March, when Russia was at the very bottom of our list, is that risk has greatly receded," Rothman, who's also director of quantitative global macro research at Acadian, said in a June 20 phone interview. "We're seeing many investors coming back into the Russian market. Volumes have picked up, and general flows are up. From a risk perspective, that makes us a lot more comfortable."
The money manager's computers vaulted Russia into the top spot this month even as the Micex trades 20 percent above the low it touched on March 14 at the peak of Russia's conflict with Ukraine. Indicators focused on the outlook for corporate earnings growth, market risk and liquidity have driven Russia's surge in the rankings, Rothman said.
Foreign Inflows
Funds that make investment choices based on quantitative analysis use computer models to predict movements in securities. Managers then try to profit by buying and selling based on those forecasts.
The RTS Volatility Index, which measure traders' expectations for price swings in Russian equities, has declined 65 percent since reaching a record high on March 3, when Putin's incursion into Ukraine triggered a stock market rout. The gauge fell 0.5 percent last week to 26.38, near the lowest since February.
After pulling $767 million from Russia equity funds this year through March 5, investors have changed tack, piling $416 million into the country, according to EPFR Global, a Cambridge, Massachusetts-based data provider.
Relative Value
"We're seeing an increase in interest in Russia's stock market and that money inflow could help prices," Mattias Westman, who oversees about $3.6 billion in Russian assets as at Prosperity Capital in London, said by phone on June 20. "Russia is one of the most attractive markets because of valuation and continued improvements in the management of the companies. A lot of investors view Russia primarily through a political lens and don't understand the intrinsic value."
The Micex Index trades at 5.4 times estimated earnings for the next 12 months, compared with a multiple of 10.9 for the MSCI Emerging Markets Index and 15.7 for the Standard & Poor's 500. The ratio for Russia's benchmark equity gauge was 4.5 on March 14.
"The problem is that it's been quite cheap for a while, even before all these geopolitical developments kicked off," John Lomax, an emerging-market strategist at HSBC Holdings Plc, said by phone from London on June 20. "Catalysts remain unclear. The near-term growth picture is not very persuasive. Recent geopolitical developments will continue to cast a shadow on the economic outlook in Russia."
'Without Fear'
Stocks have rallied as Putin signaled that he's willing to work with Ukraine's new leader. The former Soviet republic on June 20 announced a week-long unilateral cease-fire, halting the government offensive against pro-Russian rebels in its easternmost regions.
JPMorgan boosted its recommendation on Russian equities to "overweight" from "underweight" last week, citing the fading threat of escalating violence in Ukraine. Citigroup said June 6 it expects Russian stocks to rise 10 percent by year-end amid depressed valuations.
The Bloomberg index of the most-traded Russian stocks in the U.S. gained 1.1 percent to 92.51 in New York last week. Yandex NV, Russia's largest web search engine, was the best performer, rallying 5.4 percent to $35.56.
The Micex added 0.1 percent to 1,487.07 by 7:41 a.m. in New York today.
"Looking at bottom-up and top-down indicators, we see those turning much more positive," Rothman said. "One of the reasons that quantitative investing in emerging markets is so powerful is that as political and economic events turn rapidly, we're able to adjust our views dispassionately and respond quickly and without fear as events move forward."
Before it's here, it's on the Bloomberg Terminal.
LEARN MORE