Treasury 30-Year Bonds Decline on Fed Inflation View
Daniel Kruger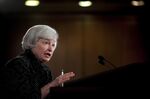 Treasury 30-year bonds fell on the week as investors cast doubt on Federal Reserve Chair Janet Yellen's comments that rising consumer prices should be disregarded rather than seen as a sign of faster inflation.
A gauge of U.S. inflation expectations for the next five years touched the highest level in more than a year after Yellen said June 18 that the Fed maintains its commitment to low interest rates and dismissed a faster-than-forecast rise in the U.S. consumer price index. Ten-year notes dropped for a third week before U.S. reports next week that analysts say will show home sales rose and confidence in the economy improved.
"The market is struggling with, will they overshoot in terms of easy money and what are the implications for longer-term inflation?" Margaret Kerins, the Chicago-based head of fixed-income strategy at Bank of Montreal, one of 22 primary dealer that trade with the central bank. "There's uncertainty there that justifies a risk premium."
The 30-year yield climbed two basis points, or 0.02 percentage point, on the week to 3.43 percent at 5 p.m. in New York, according to Bloomberg Bond Trader prices. They touched 3.50 percent, the most since May 12. The 3.375 percent security maturing May 2044 fell 12/32, or $3.75 per $1,000 face amount, to 98 29/32.
The benchmark 10-year note yield rose less than a basis point on the week to 2.61 percent, and is up from 2.48 percent at the end of May.
Inflation Trends
Treasury five-year break-even rates, which measure the difference between yields on benchmark notes and similar-maturity Treasury Inflation Protected Securities, were 2.09 percentage points, the highest since May 2013. The 10-year break-even rate, was 2.27 percentage points, the highest since Jan. 16.
U.S. index-linked bonds outperformed their German and U.K. peers this year. They returned 5.2 percent, according to Bank of America Merrill Lynch indexes, versus 2.9 percent for Germany's securities and 3.9 percent for British linkers.
"Inflation has been surprising on the upside in the U.S., in contrast to the downside in Europe," said Anton Heese, fixed-income strategist at Morgan Stanley in London. "The market is starting to price in a recovery in U.S. inflation trends, as the economy recovers."
Fed policy makers at their June 17-18 meeting cut monthly debt purchases by $10 billion to $35 billion, while leaving the target rate for overnight lending between banks in the range of zero to 0.25 percent, where it has been since December 2008.
Market Voting
Yellen, at her June 18 press conference, said that the CPI has "been a bit on the high side" while adding that the recent "data that we're seeing is noisy." She emphasized the Federal Open Market Committee's view that rates are likely to stay low for a "considerable time."
The Fed's preferred measure of inflation may have moved closer to the central bank's 2 percent goal in May. The personal consumption expenditures price index rose 1.8 percent last month from a year earlier, according to the median estimate of 19 economists and strategists in a Bloomberg survey, after a 1.6 percent gain in April that was the most since November 2012.
Treasuries dropped on June 17 as the cost of living increased 0.4 percent, the biggest advance since February 2013, according to Labor Department data. It was the third monthly increase.
"The market is voting with its feet and lifting rates because it doesn't agree with Yellen's conclusion on CPI," said Adrian Miller, director of fixed-income strategies at GMP Securities LLC in New York.
Home Sales
Previously owned U.S. home purchases increased 1.9 percent in May, according to a Bloomberg survey before the June 23 report, after a 1.3 percent gain in April that was the first this year, National Association of Realtors data showed. The Conference Board's index of consumer confidence rose to 83.5 in June, another survey showed, from 83 a month earlier.
The U.S. government sold $7 billion of 30-year TIPS yesterday at a yield of 1.116 percent, versus the average forecast of 1.093 percent by seven of the Fed's 22 primary dealers. The bid-to-cover ratio, which gauges demand by comparing the amount bid with the amount offered, was 2.76, up from 2.34 at the previous sale in February.
The primary dealers held $39.8 billion of Treasury notes and bonds as of June 11, up from $6.2 billion on May 23 and the most since Nov. 29, according to central bank data.
(An earlier version of this story was corrected to show Treasury prices were set for a third weekly decline.)
Before it's here, it's on the Bloomberg Terminal.
LEARN MORE