In Charitable Checkup at West Elm, Bill Clinton Rubs Some Fair-Trade Rugs
By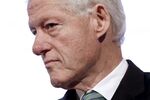 Every year companies make all kinds of promises at the Clinton Global Initiative—and every year Bill Clinton himself checks in with a few to see how they're doing.
So the former president spent a couple of hours on Friday at the Brooklyn headquarters of West Elm. The furniture company had pledged to spend $35 million on handcrafted goods over two years, assuring that the money would go directly to the artisans. It had purchased nearly that amount in just one year. Hence, the visit.
Jim Brett, president of West Elm, led Clinton through a specially created showroom of some of the handcrafted products. "Consciousness is important to our shareholders," Brett said. "We committed to 'consciousness' 17 quarters ago, and we've had record earnings for those 17 quarters." West Elm, which is owned by Williams-Sonoma, has 58 stores and net revenue in 2013 of $531 million.
Clinton was wearing a crisp suit and his made-in-Detroit Shinola watch. He was cheery and encouraging, and he really liked a yellow ceramic bird made by potters in the Philippines (available next month for $29). The item prompted the former president to remark that geothermal sources provide 24 percent of the electricity in the Philippines. After the devastating typhoon there, Clinton has been contemplating reliable energy distribution. "I've thought a lot about what to do since there will be more climate interruptions," he assured everyone. "I have no answers, but I'm thinking about it."
Clinton spoke with some of the business owners who had come from India, Peru, Guatemala, and Haiti. He was very keen on prospects for Central America. "The potential is phenomenal and almost untapped," he said. "Central America is waiting to explode. They could double their income." The challenge there and elsewhere, Clinton said, was "creating opportunities far away from the prosperity centers."
He was particularly intrigued by the display of fair trade rugs from India. They are the first of their kind and will be available at West Elm in late September, from $39 for a 2×3′ cotton rug to $999 for a particularly intricate and labor-intensive design. The company is announcing the news next week but gave Clinton a sneak peek.
"I was over the moon when I read about this," he said. "You can have a huge impact on the wage structure in India," he told Sumeet Nath, the managing partner of the rug maker, Raj Overseas. "Consumers will buy these. They're beautiful besides."
Clinton rubbed his hand on a sophisticated wool dhurrie rug that hung on the wall. Then he moved on.
Before it's here, it's on the Bloomberg Terminal.
LEARN MORE