Darrell Issa's Internet Theory: Net Neutrality Will End Porn
By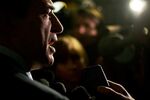 The public pressure for strong regulations keeping Internet providers from picking favorites is growing, and House Republicans don't like it. In a hearing of a House Judiciary subcommittee on Friday, they described net neutrality as a form of government censorship that would prevent technology companies from innovating. Underpinning these arguments was the flawed notion that net neutrality is an idea cooked up by the Federal Communications Commission over the last six weeks, and not the basis of government policy for more than a decade.
"Net neutrality is a seductive slogan," said Bruce Owen, a fellow at the Stanford Institute for Economic Policy Research. While this was a strange way to describe what is often seen as one of the most boring phrases in history, Owen does sort of have a point: 58 percent of respondents to a recent survey by Consumers Union said they were against allowing Internet service providers to charge companies for preferential treatment. Owen argued the phrase has no real meaning, and compared it to a mutating virus that adapts to attack market freedom in whatever way it can. When asked to provide his own definition, he couldn't come up with one.
Owen was one of three panelists saying that antitrust laws could be used to regulate any problems with Internet governance, essentially proposing that the FCC, which is in the process of developing new rules, be removed from the process altogether. This would leave the Federal Trade Commission in charge. Every Republican member of the committee also supported this idea.
Columbia Law School professor Tim Wu, the man who coined the phrase "net neutrality," was the sole voice of dissent appearing before the panel. His view is that the Internet is too important to be left to economists, and that the government has the responsibility to protect free speech by making sure that certain services aren't favored for political reasons. "There are a wide range of non-economic values that I fear the antitrust law simply does not capture," he said. "If you have a political bias, it doesn't necessarily give a competitive advantage to the ISP."
Congressman Darrell Issa argued that allowing the government to consider anything but pure economic questions was the same thing as censorship. Pointing out that the FCC doesn't allow profanity on network television, he said that the goal of any Internet regulation would be the same. Under net neutrality, he said, "we go back to the Leave It to Beaver times," when you couldn't show two married adults sleeping in the same bed.  He noted that on the Internet, by contrast, there are no restrictions on sexually-charged content. When Wu tried to explain that this wasn't the point of net neutrality, Issa cut him off. "Net neutrality doesn't exist," he snapped.
But here's the thing: Net neutrality does exist. People arguing against it have consistently said that the imposition of new rules would end a decade of unregulated Internet. But the FCC has had some form of these rules in place for years. Opponents of net neutrality can rightly make the argument that a federal court has twice rejected these rules, but that's different from acting like the whole concept of Internet regulation has suddenly come out of the blue. Comcast, the country's largest cable Internet provider, agreed to comply with the FCC's rules when it acquired NBCUniversal in 2011. It remains bound by those agreements even though a court invalidated the rules in January.
Opponents of stronger FCC rules like to ask for evidence of the problem that net neutrality is trying to solve. You could also flip that question to ask, why change a basic concept that hasn't caused any problems? "The reason we haven't had a problem over the last 20 years is that we've had de jure or de facto net neutrality in place," said Wu. "I'm going to agree with the policy of 'if it's not broken, don't fix it.'"
Before it's here, it's on the Bloomberg Terminal.
LEARN MORE