Canada Inflation Tops 2% Target for First Time Since 2012
Greg Quinn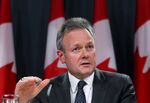 Inflation exceeded the Bank of Canada's target last month for the first time in more than two years, an unexpected acceleration led by energy costs that sparked increases in the currency and bond yields.
The consumer price index rose 2.3 percent in May from a year ago following April's 2 percent pace, Statistics Canada said today from Ottawa. The core rate, which excludes eight volatile products, increased 1.7 percent after a gain of 1.4 percent the prior month. Both increases were higher than all forecasts in Bloomberg economist surveys that called for total inflation of 2 percent and core prices to rise 1.5 percent.
Bank of Canada Governor Stephen Poloz kept his key lending rate at 1 percent on June 4 with a neutral bias, and said the risk of persistent low inflation remains after a rise in energy costs. The Canadian dollar and bond yields jumped after today's report suggested Poloz may change his view that core inflation will remain below 2 percent.
"We have pretty clearly seen the lows for inflation, at least for some time," said Robert Kavcic, a Bank of Montreal senior economist in Toronto. For the central bank, "I don't think it's going to change the policy path, but they won't explicitly be talking about downside risks to inflation."
Canada's dollar rose 0.5 percent to C$1.0761 per U.S. dollar at 9:41 a.m. in Toronto, the strongest since January. Government bond yields rose, with the security due in two years climbing the most since September, to 1.14 percent from 1.08 percent.
Inflation Forecast
The Bank of Canada predicted in April inflation would average 1.6 percent from April to June, and not reach its 2 percent target until the first quarter of next year. Core prices were forecast to average 1.2 percent this quarter and to reach 2 percent in the first quarter of 2016.
"While the Bank is likely to focus on the transitory nature of the energy-driven increase in headline prices, the momentum in core inflation will be much more difficult to ignore," said David Tulk, chief macro strategist at TD Securities in Toronto.
Energy costs rose 8.4 percent in May from a year ago, matching April's pace that was the fastest since November 2011, Statistics Canada said today. The pace of food inflation quickened to 2.3 percent in May from April's 1.9 percent pace, led by an 8.0 percent jump in meat prices.
On a monthly basis, both the total and core rates of inflation rose by 0.5 percent in May. Economists surveyed by Bloomberg predicted that monthly prices would rise 0.3 percent and the core rate would increase 0.2 percent.
Seasonally adjusted inflation slowed to 0.2 percent in May from a revised 0.3 percent in April. The adjusted core rate advanced by 0.2 percent in May, matching April's pace.
Statistics Canada also reported today that retail sales rose 1.1 percent in April, led by automobiles and parts, the fourth straight increase. The gain exceeded all forecasts in a Bloomberg News economist survey.
Before it's here, it's on the Bloomberg Terminal.
LEARN MORE