A New Front Line for China's NIMBY Environmental Movement: Waste Incinerators
Christina Larson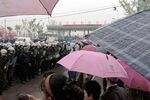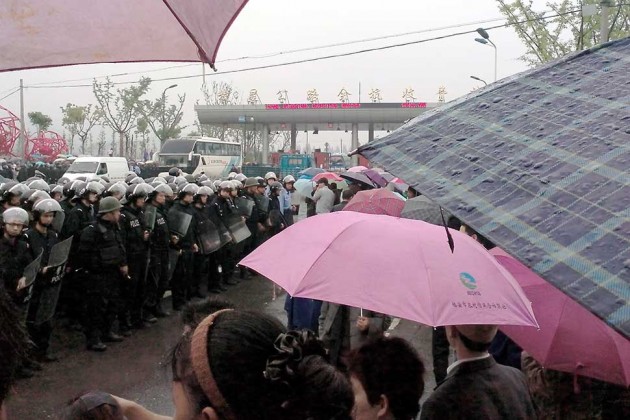 On Wednesday, nearly a thousand residents of an upscale condo complex in southern Guangdong province's Panyu city marched to a nearby construction site to protest what the government was building there: a waste incinerator plant.
Some residents stood in the street, blocking traffic into and out of the site, while others hung handmade banners listing their grievances on the adjacent Nanpu Bridge. Their main concern was that burning trash would release toxins into the air. A second sore spot: the opaqueness of the government's decision-making process.
"We didn't know anything about this until they began work on it," one protestor told Radio Free Asia. "We feel as though we've been duped, and that this isn't good … for our kids' health. That's why the homeowners are standing up for their rights."
Police officers—some in plain clothes and some wearing helmets and carrying riot shields—quickly intervened to disperse the protesters. In clashes between residents and police, several people were injured; a handful were detained by authorities.
Elsewhere in China, citizens have staged other recent protests against planned waste incinerator plants, fearing pollution and negative health impacts.
In May, hundreds of residents of Hangzhou, a wealthy city in eastern China, rallied at the site of a planned incinerator. Last August, a similar protest was held in Puzhai, a another city in Guangdong province. Residents hung protest banners near city hall proclaiming: "Boycott the waste incinerator plant!"; "Protect the health of future generations!"; and "Say no to cancer!"
The amount of pollution released by a waste incinerator depends on the model, proper oversight during construction, and subsequent maintenance. While newer, expensive models are not necessarily environmental hazards, poorly designed and maintained waste incinerators can release vaporized toxins, including dioxin and mercury, into the air.
Before it's here, it's on the Bloomberg Terminal.
LEARN MORE