Summer Travel Calendar 2014: When, How, and Where to Go
An expertly annotated calendar of travel strategies for the entire summer
By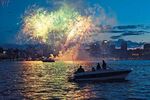 When to Go
Those with superflexible vacation-day policies can "get a deal on next-day flights to Europe and Asia," says George Hobica, founder of Airfarewatchdog.com. "Using Google Flight Explorer, I've found fares under $1,000 to Stockholm and Moscow. Airlines want to sell all international seats."
Plan your Labor Day escape in early July. International tickets are usually cheapest if bought exactly 55 days prior to the flight, says Nikolaos Koklonis, founder of travel search site Airfasttickets.com.

Illustration by Giacomo Bagnara

Buy domestic flights for mid-August on July 14. U.S. tickets are historically cheapest exactly 25 or 28 days prior to departure, Koklonis says.
Early August is a good time to book business class to Barcelona or Berlin. "Everyone in Europe is on vacation, so those seats are empty," Hobica says.
Deciding which day to leave? International flights are cheapest on Monday, Tuesday, and Wednesday. For domestic travel, go on Tuesday, Wednesday, or Saturday. Wednesday is smart for return trips, domestic or international.
When going abroad, book with the local carrier. "They have more inventory of seats, which translates to lower rates," Koklonis says. Also: better airport gates.

Illustration by Giacomo Bagnara

Don't stop browsing for fares on the weekend: "If there's a mistake [an unintended cheap fare] on a booking site—and there increasingly are—it takes longer to fix when tech people are out of the office," Hobica says. But avoid purchasing airline tickets on Tuesday. "Everyone does, and that's when flights can be the priciest," Koklonis says. "If you must, do it early in the morning, before 9."
"Airfares to Europe go down after mid-August, simply because kids are back in school," Hobica says. Hotels are cheaper midweek in August as well. Koklonis says if you ask for a free upgrade, the front desk will probably say yes.
For better service, bribe the flight crew with chocolate. It sounds cheesy, but it works. "Everyone expects them to take care of passengers, but nobody does the other way around," Koklonis says.
 
 
Trips to Take
Celebrate American independence south of the border. "There are very good hotel rates in Puerto Vallarta during wet season," says Zachary Rabinor, of travel agency Journey Mexico. "It's not uncommon to see two nights for the price of one at five-star resorts."
Or go north to Canada, says Azim Barodawala, CEO of flight search engine Adioso.com. "You'll get the best flying deals on July Fourth."
Explore a national park. Badlands in South Dakota is one of the least crowded, according to Marty Behr, the founder of travel agency National Parks Revealed. "You'll see stars from horizon to horizon. If you live in an urban area, it's especially mind-blowing."
Nashville is the most popular destination in America right now, according to Airbnb bookings, which have increased 365 percent there in the past year.

Illustration by Giacomo Bagnara

Say goodbye to summer in the Rocky Mountains. "Family travel is over because of school, and it's really nice for adults," says Caroline Bach Wood, a vacation adviser who specializes in the region. "Plus, the weather is perfect—not too hot."
Sign up for a late-summer cruise. "A ship will never set sail with empty cabins," Barodawala says. Sales abound "for customers who are willing to be a bit flexible."
Visit Seattle, where the Seattle Street Food Festival made its debut a year ago and has grown to become the largest of its kind in the U.S., with more than 100 options for gluttons.
"We found some great fares to Asia from San Francisco this summer, particularly Singapore," Barodawala says. Head to that city for top shopping and entertainment.
More than half of U.S. office workers are in on the Tuesday after Labor Day, according to five years of search data from Tripit.com. But if you've got the time, it's one of the best weeks to take off entirely. Leave America, Barodawala says, as fares are a steal. Tickets to London hover under $1,000, and "it's not a holiday there, so fewer crowds." Or try Fiji. "People think it's a faraway, exotic locale, but it's quite accessible, and fares—$1,150 from San Francisco—aren't bad." For any trip, book rooms directly through hotel websites, as they're more likely to offer hidden discounts.
Summer Office Tips
Don't hang around on summer Fridays. "There will be fewer interruptions, sure, but more productivity comes from teamwork," psychologist Bob Kriegel says.

Illustration by Giacomo Bagnara

"I always tell people to stay away from planning big group meetings on summer Mondays because of long weekends," says Susan LaMotte, founder of workplace consulting firm Exaqueo.
When requesting time off, "if it's short notice, a shorter time off is more respectful," LaMotte adds.
Fall initiatives get started around Aug. 19. "People want to get stuff done midweek," LaMotte says.
Plan a short trip for the last week of August if you haven't yet gone away. "We're prevented from doing a lot of things because of fear," Kriegel says. "You think, 'So much stuff is going to happen while I'm away,' and you come back, and nothing's changed."
Before it's here, it's on the Bloomberg Terminal.
LEARN MORE