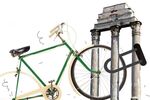 In Vittorio De Sica's classic 1948 film The Bicycle Thief, the despairing protagonist crosses Rome in a vain search for his stolen bike. Today, Mayor Ignazio Marino is starring in a modern-day sequel. While municipal bike-sharing has thrived from Paris to São Paulo, Rome's Roma'n'bike has been hobbled by crooks, politics, and geography—the city sits on its famous seven hills—combined with residents' reluctance to abandon cars and scooters. "Romans don't like to show up anywhere sweaty from a bike ride," says Federico Niglia, a history professor at Luiss University who owns a bike but rarely pedals. "You have theft, bureaucracy, political wrangling. The same problems that plague the country are dooming bike-sharing."
Roma'n'bike was introduced in 2008, a year after the successful Vélib' in Paris and before bike-sharing reached New York, Milan, or London. Today, though the program still exists, it's almost impossible to find a bike. "It's like the Roman Empire: We were first, now we're behind," says Eleonora Carletti, who works in a restaurant near Via del Corso, where an abandoned Roma'n'bike rack props up a board showing daily specials. Although she says she enjoyed Barcelona's program on a recent visit, at home "I never really used the bikes because I have a car."
Rome's failure is an embarrassment to Mayor Marino, who cycles to work and promised better mobility and less traffic before he was elected last year. Although he was able to close streets near the Roman Forum to cars, Marino hasn't managed to fix bike-sharing. A formidable obstacle has been Rome's love affair with the internal combustion engine. The city has 978 motorized vehicles per 1,000 inhabitants, according to municipal data. That compares with 398 vehicles per 1,000 Londoners and 415 per 1,000 in Paris, where Vélib' has more than 20,000 bikes.
Spanish outdoor-advertising company Cemusa launched Rome's program in the city center and ran it for a year. Cemusa signed up more than 6,000 users for about 200 bikes and expected that would give it an edge in winning a longer-term contract for the whole city. When Rome failed to offer such a deal amid complaints over the prospect of a foreign company's involvement, Cemusa demanded payment or the possibility of selling advertising. "Neither happened, and we left," says Marco Dallamano, who oversees Cemusa's Italian ad operations.
In early 2009 the public-transit agency took over—and the wheels came off. Massimiliano Tonelli, founder of the Bikesharing Roma blog, says the city made many mistakes, such as charging subscribers from the start of each ride instead of giving them the first half-hour free, as in New York and Paris. "You didn't need a credit card to register, they didn't come around often enough to check bikes, and most were stolen," Tonelli says. "It was a disaster."
Mayor Marino in January said on TV that "there will be 1,000 new bikes by March 21," but a walk in central Rome reveals rusting racks offering shade to stray cats near the Pantheon and parking for Vespa scooters just off the Via del Corso. "Everywhere you turn in the world there are bike-sharing programs," says Carolina De Simone, a graduate student. "Only Rome is left out."
Before it's here, it's on the Bloomberg Terminal.
LEARN MORE