Highway Guardrails Are Killing Drivers, Says Industry Insider
An industry insider says highway safety devices are killing drivers
By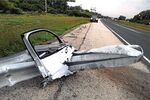 Before dawn on Feb. 23, Darius Williams ran his Nissan Sentra off a North Carolina interstate at 80 miles per hour. A length of guardrail pierced his door, slamming him into the back seat. Three days later, with police attributing the accident to reckless driving and Williams, 24, lying in intensive care, a self-described safety advocate named Joshua Harman drove past the scene. Spotting the jagged end of the guardrail bending toward the highway, he stopped. "The evidence always tells a story," he says.
Suspecting he knew this story's ending, he drove his truck to the junkyard where Williams's Nissan had been towed. Some 10 feet of guardrail, which had doubled back on itself, had skewered the totaled car. Harman snapped a photo of the bloodied back seat and a 175-pound piece of steel amid the wreckage. A sticker identified its maker: Trinity Highway Products.
Harman says something is seriously wrong with hundreds of thousands of Trinity guardrail systems on roadsides across the U.S. Claiming federal whistle-blower status, he's suing the company and its Dallas-based owner, Trinity Industries, on behalf of U.S. taxpayers, alleging the company made quiet design changes that transformed guardrails intended to reduce injuries into potentially deadly hazards.
His focus is on something called an energy-absorbing end terminal: Installed at the end of a guardrail and typically marked with yellow and black stripes, it's designed to give way when hit, absorbing energy to slow an out-of-control car. Trinity, one of the biggest guardrail makers in the U.S., first gained federal approval in 2000 for its ET-Plus end terminal, now used nationwide.
Harman's suit alleges that Trinity changed the ET-Plus's dimensions between 2002 and 2005 without telling federal authorities. Instead of acting like a shock absorber, he claims in his 2012 suit, the modified ET-Plus can lock up, behaving more like a giant shiv that impales cars and sometimes the people inside them. He says Trinity's changes lowered manufacturing costs and made the ET-Plus more difficult to reuse after accidents, requiring highway departments to purchase new ones.
Trinity vigorously disputes Harman's claims. In an e-mail, spokesman Jack Todd said the company has a "high degree of confidence" in its product. An executive in a 2012 deposition for a patent infringement lawsuit over the ET-Plus said that Trinity had made changes to its end terminal but that they were "cosmetic" and didn't require new approvals because they didn't hurt its performance. Todd said Trinity didn't sell the revised end terminals until they had been crash-tested in 2005 and the Federal Highway Administration had "issued its letter of acceptance." In an e-mail, FHWA spokesman Neil Gaffney said a revised version of the ET-Plus was successfully crash-tested and that the agency hasn't received complaints from states about its performance.
Trinity alleges that Harman's case isn't about public safety—it's about payback. In court filings, the company calls Harman an "opportunistic litigant" seeking "to retaliate against Trinity." Harman can't claim to be impartial: He and his brother own two small companies in Virginia that once made and installed generic end terminals based on Trinity's ET-Plus design. In 2011, Trinity sued for patent infringement.

Harman says he believed the patents had expired. Although he stopped making the terminals, Trinity proceeded with its case, saying it wanted to ensure any infringing guardrails were off the roads. The companies reached a confidential settlement in 2012. Harman laid off most of his workforce—more than 100 people—and sought Chapter 11 protection for his companies. His legal bills exceeded $7 million, according to one of his bankruptcy filings.
At the same time Trinity was going after his products, Harman says he started taking a closer look at Trinity's end terminals, driving to crash scenes all over the country. His quest took him away from his wife and two school-age daughters in Virginia for more than 300 days last year. He says whatever Trinity alleges about his motives doesn't matter if he's right that U.S. highways are lined with dangerous guardrails paid for by taxpayers. "It's irrelevant if I'm crazy."
Harman has a high-profile ally: Boies, Schiller & Flexner, the law firm founded by David Boies and known for taking on the likes of Microsoft and MasterCard, is representing him in the suit. The firm argues Trinity's design modifications were more than cosmetic. "The headers are now dangerous, and people are dying," says Nicholas Gravante Jr., a Boies Schiller partner who's working on Harman's case.
On Feb. 14, 2012, about seven years after Harman says the redesigned ET-Plus began showing up on U.S. roads, Trinity officials met with FHWA engineer Nick Artimovich, according to e-mails sent by Artimovich that were included in filings in the patent lawsuit. They alerted him to a change to the end terminal—a reduction in the width of its guide channel, to 4 inches from 5—that Trinity had omitted in documentation for the 2005 crash test. In another e-mail about two weeks later, which was obtained by Bloomberg News, Artimovich wrote to two FHWA colleagues, saying he believed Trinity had correctly tested the modified design. "However, there does seem to be a valid question over the field performance of the current ET-Plus compared to earlier versions," he wrote in the e-mail. Artimovich declined to comment.
Harman in his suit said it isn't clear which version of the ET-Plus was crash-tested in 2005. Gaffney of the FHWA said in his statement that Trinity told the agency the ET-Plus with a 4-inch channel had met crash-test standards.

Harman says he discovered the design changes in 2011, while inspecting a Trinity end terminal damaged in a crash along I-40 in Arkansas. Measuring the device, he realized it had several changes from the original product specs, including smaller internal dimensions that he says prevented it from working properly. He says other crash-damaged end terminals he examined turned out to have those same changes. "There was no question" it was the smaller version that was seizing up, he says.
Harman sometimes goes on guardrail-inspection road trips with Steven Lawrence, a Texas lawyer. Lawrence and other attorneys have brought at least nine personal-injury and wrongful-death suits against Trinity. In the bed of Lawrence's Chevy Silverado pickup are two end terminals. Harman says one is Trinity's original, the other its modified version. More mangled end terminals take up an eighth-floor evidence room at the New York office of Boies Schiller, which is amassing exhibits in preparation for its case. After visiting about 200 crash sites and reading news reports, Harman says he's identified what he believes are approximately 20 deaths in accidents linked to the modified ET-Plus. In an e-mail, Todd, the Trinity spokesman, said Harman's claims are "erroneous." Without knowing the circumstances of each crash, including the vehicle's speed, weight, and angle of impact, "it is impossible to determine how the end terminal system performed," he said.
The company also disputed Harman's eligibility to sue under the federal whistle-blower law, saying he's basing his allegations largely on public information, not insider knowledge. If Harman prevails in the case, his whistle-blower status could allow him to take about a third of any judgment. The suit potentially presents a "billion dollars' worth of damages" for Trinity, a lawyer for the company said in a May hearing.
U.S. District Judge Rodney Gilstrap in Marshall, Texas, dismissed Trinity's objections, saying Harman's expertise qualifies him to sue as a whistle-blower. A jury will begin to hear arguments in July. Already, Harman and Trinity are trying the judge's patience. In a June 10 order denying a request from both sides to delay the trial, Gilstrap scolded the litigants: "The parties have conducted themselves with a level of contentiousness and vitriol that is as surprising as it is unwarranted."
BOTTOM LINE -
The bottom line: A lawsuit claims a leading maker of highway guardrails quietly changed its design to save money, leading to deaths.
Before it's here, it's on the Bloomberg Terminal.
LEARN MORE