Is the Firefox Mobile Operating System a Droid Killer?
Mobile carriers in emerging markets start to shift to Firefox
By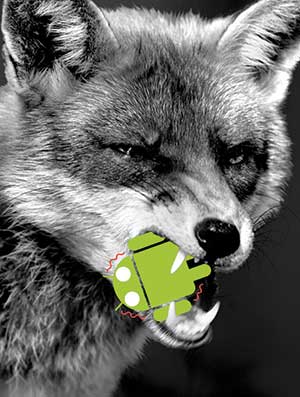 Neemias Santos Mazzoco, 29, is looking at phones at a São Paulo store for Vivo, a Brazilian carrier owned by Telefónica. He has a 2007-vintage Nokia. He ticks off the things he likes about it: "No one wants to steal this phone. It's almost unbreakable, and the battery lasts for three days." When it finally dies, he says, he'd consider an Alcatel OneTouch Fire, a smartphone that at 340 reais ($151) costs one-fifth as much as an iPhone 5C in the store. "I don't have the courage to spend 1,500 reais on a phone," he says. Unlike most smartphones, especially in emerging markets, the OneTouch Fire doesn't run on Android, Google's mobile operating system. It runs on Firefox.
Like its namesake Web browser, the Firefox OS was created by Mozilla's army of volunteer coders as an open alternative to company-owned standards. Mozilla, a portmanteau of "Mosaic" and "Godzilla," began as an open-source development arm of Netscape before spinning off in 2003 as a nonprofit foundation dedicated to creating code for others to commercialize. These days, though, it's making some serious money of its own, earning $100 million on $311 million in revenue in 2012, the most recent year it disclosed results. A bit more than 90 percent of the revenue came from a search traffic deal with Google.
Mozilla's move into the mobile OS market makes it less of an ally and more an adversary to Google and Apple. Android dominates this market, accounting for about 78 percent, compared with 18 percent for second-place Apple's iOS, according to market researcher IDC. But neither was designed specifically for the lower-tech smartphones that mobile carriers are trying to sell in developing markets. By simplifying data management and cutting energy use, Firefox OS aims to attract people with less money and unpredictable access to networks and electricity.
Its influence is beginning to spread: Telefónica began rolling out Firefox phones in Spain and seven Latin American countries last year; Deutsche Telekom now sells them in Poland, Greece, Hungary, and Germany and will add Croatia, Macedonia, Montenegro, and the Czech Republic this year. In May, Carlos Slim's América Móvil unveiled its own line in Mexico, and in June Mozilla said that within a few months Firefox phones will be on sale in India for $25.
Mozilla's alternative isn't likely to win over iOS and Android phone users in the U.S. or Japan, who aren't counting pennies on devices or data plans. But it could pose a serious threat to Apple and especially Google in the emerging markets where most sales growth lies. For carriers, independence from those companies means they don't have to negotiate subsidies or software license agreements. It also gives them more flexibility to modify handsets; Deutsche Telekom added privacy protections that its European customers want. And Firefox doesn't burden carriers' networks by sending back user data to the OS maker's home servers for analysis or sale. Apple and Google didn't respond to requests for comment for this story.
Mozilla's chief technology officer, Andreas Gal, says his organization began its OS project three years ago out of frustration: While the Web that appears in a laptop browser is built largely on shared, open standards such as HTML, that's not true on smartphones and tablets. Apple's proprietary code runs only on its own devices. Google lets phonemakers create customized versions of its OS, but that often means those companies' customers don't get some security patches or other upgrades. Phones with less processing power have a different problem. They have to use older, less demanding versions of Android, which can be incompatible with newer hardware and apps.
Gal was raised in Germany and got a computer science Ph.D. from the University of California at Irvine before joining Mozilla in 2008. Sitting with another Mozilla employee on a long-haul flight to South Korea in 2011, he decided Mozilla should build an open-source mobile OS as a test—to try to figure out how to make mobile devices as browser-agnostic as the World Wide Web. Once home, he sent an e-mail to Mozilla's volunteer developers outlining his pitch. Three days later, Telefónica offered to dedicate some of its engineers and donate code to the project.
Paco Montalvo, the carrier's global head of devices, says his team had been having similar conversations in an effort to respond to customers who decided not to switch from iOS or Android because of app compatibility issues. "When consumers try to change, when they try to get some freedom, they see some barriers," he says. "Those are the barriers we want to break." More recently, Deutsche Telekom and Telenor have also contributed engineering time.
Mozilla and Telefónica agreed to first target Brazil, where the carrier controls almost 30 percent of the mobile market. "If you design for Brazil, it's going to function in Mexico," says Gal. "If you sit in Cupertino, it's not going to work in Brazil or Mexico." This has led to some innovations that may seem obvious but hadn't been high priorities for OS designs aimed at the U.S. or Europe.
Because Mozilla isn't yet working to put its OS on high-end phones, it can keep its code simple, yielding longer battery life. Firefox OS lets people easily monitor data use to keep costs down. It supports FM radio, a valuable feature in Latin American markets. To soften the learning curve for first-time smartphone users, it can search within multiple apps at once, unlike other systems. Gal's example is a query for Madonna that yields a bio from Wikipedia and songs from a streaming service.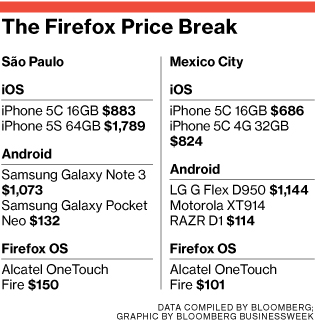 Firefox can then automatically load the search results in mobile apps written using the newer standard of HTML 5 without sending the user to an app store for a download. Many of the most important social apps, including WhatsApp, Facebook, and Twitter, have already moved to HTML 5, meaning that Mozilla is already past the first hurdle of any new OS—persuading software makers to code for it. Marion Kessing, a spokeswoman for Deutsche Telekom, says Firefox "propels the standardization of HTML 5," a priority for the company.
"I can tell you that Telefónica is pushing Firefox," says Montalvo. The OS doesn't just open the door to cheaper phones, he says—it's also simpler and more intuitive than other systems. In wealthier markets, Telefónica pitches the phone to teenagers looking for a first smartphone. In poorer ones, it pitches to adults. Montalvo cites Colombia, Venezuela, Peru, and Uruguay as markets where this approach has been "very, very, very successful."
Telefónica hasn't provided sales data, but its Colombian division says 8 percent of the smartphones it sells run Firefox. Kessing at Deutsche Telekom says Firefox phones have "met expectations," accounting for 3 percent of the company's smartphone sales in Poland. With less than a year on the market, 3 percent is an achievement for Mozilla. Worldwide, Microsoft has only been able to wedge its Windows operating system onto 3 percent of new phones. IDC predicts sixfold global growth of Firefox OS use this year.
"We think they can have the same success in mobile phones as they do with their Firefox browser for personal computers," says Marco Quatorze, chief marketing officer for América Móvil. But Brian Hernandez, a salesman at an independent mobile phone distributor in Mexico City's popular tourist district, Zona Rosa, says he isn't yet convinced the OS has enough apps to become a hit. "I only bring in what customers ask for," he says, "and they just haven't been asking for it."
A low price point can be a barrier, too. At the Vivo store in São Paulo, Klevio de Lamare Gonçalves, 38, is shopping for the iPhone his son requested. "It's a lot of money to pay given how easily phones are lost or stolen or broken," he says. But the kid has done well in school, he says, and so he gets an iPhone.