pursuits
Summer Travel 2014: Escape From Your Business Trip
Quick getaways near the world's business hubs
By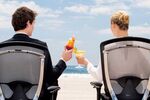 Ah, summer, that glorious time of year when elevator conversations turn into travelogues and weekend bags hide out under desks. It's suntan season, and the following pages serve as your all-purpose guide to doing it right: the best carry-on suitcase, treats to bring back to the office, novels to read, and apps to download, and a definitive calendar for booking flights and taking vacation days (without pissing off your boss). But first things first—where to go? We picked eight unexpected destinations, from an English seaside town to an Arabian desert oasis to a woodsy retreat outside New York. They're all close to major cities, so business travelers can tack on a long weekend for pleasure. Think you're too important to miss some meetings? Getting away improves productivity, alleviates stress, and generally makes you a happier, less curmudgeonly colleague. Just do it, people.

Chicago: Indiana Dunes National Lakeshore
The urban beaches that front Lake Michigan get way too crowded in the Windy City's few warm months. Avoid the masses and head 45 miles southeast to the 15,000-acre Indiana Dunes National Lakeshore, home to 180-foot-high sand dunes and birds such as the great blue heron and the American wigeon. There's excellent diving—explore a shipwreck from 1911—and plenty of fine sand beaches and marshes. Hike West Beach, a 1-mile trail ringed with pine trees that starts at the lake and goes across inlets, over dunes, and back through the woods. The park ranks seventh among U.S. national parks in plant diversity, and drive-in camping opportunities are plentiful in the summer. (Visit indianadunes.com for more information.)
Get there: Take an 80-minute South Shore Line train for $7.25 down to the park. Driving is equally quick.
Stay here: If you're not a camper, opt for Tryon Farm Guest House, a bed-and-breakfast converted from a Victorian farmhouse in nearby La Porte, Ind. A 10-minute drive from the dunes, the property offers quiet meadows, ponds, and chickens that lay eggs for the restaurant. 219-879-3618; from $145 per night, including breakfast

San Francisco: Santa Cruz
The California beach town of Santa Cruz still has its share of surfers, hippies, and students. But in recent years the food scene has expanded to cater to the highbrow tastes of nearby Silicon Valley. See for yourself at the Penny Ice Creamery, where chef Kendra Baker churns flavors such as celery and black sesame. Close by, ride wooden roller coasters and vintage carousels on the boardwalk, or take a crab sandwich from the Riva Fish House out on the wharf. There you can watch sea lions come to shore and catch a glimpse of migrating humpback whales. Those looking for more exercise can head to the hills above town to hike redwood groves near the University of California at Santa Cruz.
Get there: It takes less than two hours to drive 70 miles south to Santa Cruz along coast-hugging Highway 1.
Stay here: Retro-chic Dream Inn is the only local hotel right on the beach. It's within walking distance to the wharf and boardwalk, and all rooms have balconies or semiprivate patios with views of Monterey Bay. 831-426-4330; from $359 per night

London: Whitstable
This small southeastern coastal village is known for pebble beaches, water that reaches a relatively warm 57F, and some of the country's best flat oysters, which are small and blue-tinged with succulent meat and a clean taste. At low tide, beachcombers can walk along the Street, a narrow ridge in the sand that stretches half a mile out to sea. You should also bike or stroll along an out-of-use railway line, called the Crab and Winkle Way, to get to Canterbury—it's about a 6-mile trip through the lavender-covered Kent countryside. In hot weather, book a ride on the Greta ($74-$91), a sailing barge that travels around abandoned forts in the Thames Estuary and provides views of the white clapboard houses that line Herne Bay.
Get there: Take a 90-minute train from London's Victoria station ($37), then rent a bike ($25) to get around all weekend.
Stay here: The colorful Whitstable Fisherman's Huts are 150-year-old repurposed buildings where anglers once stashed gear; the simply furnished cabins were built less than 200 feet from the harbor and have balconies that front the beach. Eat next door at the Forge, a seaside shack selling the aforementioned bivalves, classic fish and chips, and a variety of English ales. 44-01227-280280; from $161 per night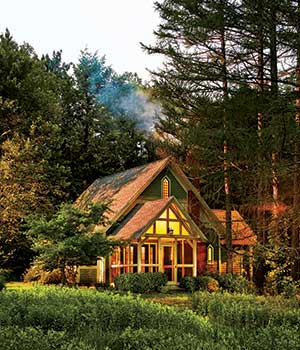 New York: Litchfield Hills
Head two hours outside Manhattan—past the touristy Hudson Valley—to the 945 square miles of rural woods, farmland, and mill towns in Connecticut's sleepy Litchfield Hills. Get an ashiatsu massage at the Spa at Litchfield Hills, in which a therapist applies pressure using bare feet—it isn't nearly as gross as it sounds ($160 for 50 minutes). Outdoorsy types can fish for trout in the Housatonic River, where the best spot is near the West Cornwall covered bridge, built in the 19th century. Try not to hook an easel-toting artist or a kayaker paddling below.
Get there: Take a car from the city; you'll need it to drive the winding roads.
Stay here: Try one of 18 over-the-top cottages at Winvian resort. Each has its own theme—log cabin, stable, treehouse—and they're all nestled next to the White Memorial Conservation Center. Staff can arrange hikes on nearby Mt. Tom as well as horseback riding, canoeing, and hot-air ballooning. 860-567-9600; from $699 per night, including breakfast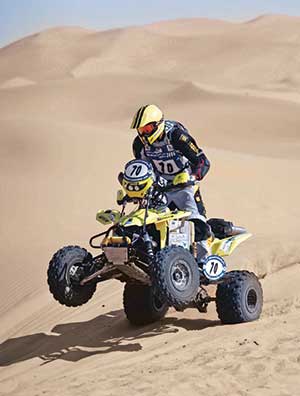 Abu Dhabi: Liwa Oasis
The crescent-shaped Liwa Oasis is a strip of greenery at the edge of the Rub al Khali (Arabic for "empty quarter"), the world's largest uninterrupted sand desert. The area, made up of a string of small Bedouin towns and villages, is dotted with pools of 90F water and cultivated date forests. It's also the ancestral home of Abu Dhabi's ruling family, who lived here 300 years ago. From Liwa, you can explore the immense red desert, including the 400-foot-high Tal Mireb sand dune, often used for international 4×4 competitions. Rent your own four-wheel-drive vehicle for about $93, but be careful: Tal Mireb translates as "scary dune," because it is seriously steep. As in the city, women should keep knees and shoulders covered.
Get there: Drive about 90 minutes along a modern highway from Abu Dhabi. The temperature reaches 107F in summer, so air conditioning is a must.
Stay here: At Qasr Al Sarab Desert Resort, lounge in your personal plunge pool while desert foxes and quail graze in the shade below. Staffers can book camel rides or group lessons in traditional Arabian sports such as archery or falconry. 971-2-886-2088; from $265 per night, including breakfast for two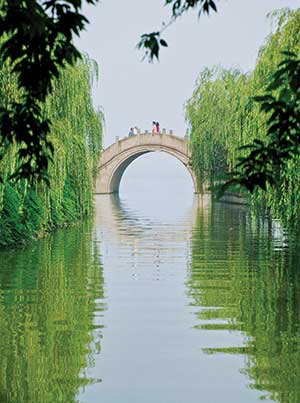 Shanghai: Hangzhou
Marco Polo described the thriving city of Hangzhou, nearly 100 miles from Shanghai, as "beyond dispute, the finest and noblest in the world." It's now a technology hub, so focus your escape on the more traditional West Lake area, with willow-lined banks, pagodas from 970 A.D., and mist-shrouded hills that look like a classic Chinese watercolor painting. Catch the Impression West Lake Show and see performers dance on water in a production from Zhang Yimou, the creator of the 2008 Beijing Olympics opening ceremony ($42). Then stop by the nearby Longjing Tea Plantation to sample some of the world's finest brews of floral green tea, grown exclusively on the property.
Get there: Take a 45-minute bullet train direct from Shanghai for about $12.
Stay here: The traditional Shangri-La Hotel Hangzhou, with 40 acres of lush grounds, is steps away from West Lake. Borrow a bike from the concierge and ride along the water to the high-style Jin Sha restaurant in the nearby Four Seasons hotel. Order the abalone, a large, sweet snail. 86-571-8797-7951; from $197 per person per night, including breakfast buffet and a dining credit of 100 yuan ($16) per day

Dallas: Glen Rose
Glen Rose, about 76 miles southwest of Dallas, has been dubbed the Dinosaur Capital of Texas, thanks to its abundance of well-preserved sauropod and theropod fossils. It's also a draw for tubing, canoeing, and kayaking along the calm Brazos and Paluxy rivers. The area closer to the town—filled with quaint shopping and dining—is rich in petrified wood and limestone, sandstone, and mudstone, which experts say were deposited 113 million years ago along the shores of an ancient sea. At Dinosaur Valley State Park, you can walk alongside dino footprints in the shallow river. One of the best places to spot tracks is at Blue Hole, a deep sinkhole ideal for swimming.
Get there: Take U.S. Highway 67 south from central Dallas for about an hour and 20 minutes.
Stay here: Ranch-style Rough Creek Lodge & Resort sprawls over 11,000 flat acres with free on-site activities such as private hayrides, tomahawk throwing, and a zip line into a lake. For additional fees, guests can participate in a cattle drive, go on guided hunting trips of pheasant and deer, or test their aim at clay sport shooting. 877-907-0754; from $285 per person per night, including one three-course dinner and breakfast daily

Bogota: Los Llanos
Due east of Colombia's increasingly buzzing capital lie the massive rolling plains of Los Llanos. Hidden in the foothills of the Andes, the town of Villavicencio serves as the gateway to the savannah and a good base for exploring the region. It's also a cattle-herding hub where cowboys—known as llaneros—come to do business and party at the South American equivalent of beer-swilling saloons. From Villavicencio, take day trips to hot springs, go spelunking, or brave a white-water-rafting expedition, all arranged by tour operators such as journeylatinamerica.co.uk. On its site, you can book a 40-minute prop plane to Caño Cristales—nicknamed the Liquid Rainbow—a trippy, hyperchromatic river teeming with tropical plants and minerals that dye the water.
Get there: Hire a $200 driver for the two- or three-hour trip, depending on traffic, using newly improved roads.
Stay here: If you're proficient in Spanish, get a room on a finca, a ranch that accommodates tourists and serves home-style meals such as spicy chicken stew. Not bilingual? Book through a tour operator for about $65 per night. Or stay at the well-maintained Hotel Campestre El Campanario, a hacienda-style hideaway that's also good for kids. 57 661-66-66; hotelcampestreelcampanario.com.co; from $400 per night, including breakfast
Before it's here, it's on the Bloomberg Terminal.
LEARN MORE