Brokers Take Rollovers for a Ride
People shifting their savings can end up in dodgy investments
by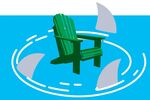 Kathleen Tarr says AT&T employees looked to her as "their de facto 401(k) expert." Visiting their homes and offices, she advised them on their retirement plans as they called up balances on computer screens. Tarr worked for Royal Alliance Associates, a network of independent brokers owned by American International Group. She encouraged hundreds of departing AT&T employees to roll over their retirement money into real estate investment trusts (REITs) that don't trade publicly and variable annuities—both of which are high-commission investments.
Tarr and her business partner, Richard McCollam, reaped hundreds of thousands of dollars a year in commissions. Not all of Tarr's clients fared as well, and 37 have filed complaints against her, according to regulatory records. Seven are suing Royal Alliance. Tarr, McCollam, and Royal Alliance say they always suggested appropriate investments. "I am forever besmirched, and that is really hard for me," Tarr says. "I am a minister's daughter and granddaughter. If anyone thinks I would do anything illegal, immoral, or unethical, that hurts me where I live."
Workers leaving a job can generally keep their savings in company 401(k) plans, but many don't: Americans shifted $321 billion from 401(k)s and similar plans to individual retirement accounts in 2012, up about 60 percent in the past decade, according to financial-services research firm Cerulli Associates. Financial companies go after that money with cold calls, Internet ads, and cash incentives to switch to IRAs. They tout the IRA's wide variety of investment choices over the typical 401(k) plan's limited menu.
IRAs often charge higher fees than 401(k) plans, giving brokers an incentive to promote rollovers. Merrill Lynch and ETrade offer as much as $600 to anyone who rolls over a 401(k) into an IRA. "If someone offers you $600," says Mercer Bullard, a professor at the University of Mississippi School of Law who heads Fund Democracy, an advocacy group, "you can be sure you are going to be paying a lot more additional expenses later."
Kristen Georgian, a spokeswoman for Bank of America, which owns Merrill Lynch, says incentives are "commonplace for many leading brokerage firms." The company tells clients about their options, "including keeping their assets in place," she says. Mike Loewengart, ETrade's director for investment strategy, says clients benefit from more transparent fees and broader investment options in an IRA with ETrade. "We believe strongly in rollovers," he says.
Former employees at companies such as Hewlett-Packard and United Parcel Service as well as AT&T have lodged complaints with regulators that brokers enticed them to roll over money into IRAs and steered them to unsuitable investments. "You're going into the wild, wild West when you take your money out of a 401(k) and put it into an IRA," says Karen Friedman, executive vice president of the Pension Rights Center.
Last year the U.S. Government Accountability Office found that a conflict of interest was fueling IRA growth. Financial companies that administer 401(k) plans misled GAO investigators posing as employees leaving their jobs, telling them they would almost always be better off if they shifted to IRAs that the companies also managed.
The U.S. Department of Labor has said it will propose rules in January that brokers and other advisers act in clients' best interests during rollovers, a so-called fiduciary standard. Brokers are generally held to the lower standard of selling products that are suitable for their customers, meaning they don't have to put their clients' interests first as long as they select appropriate investments.
The Securities Industry and Financial Markets Association opposes stricter regulation. It would hurt commission-based brokers, limiting consumer choice, according to the group. Disclosure rules are already sufficient, says Ira Hammerman, the association's general counsel.
Like many at Royal Alliance, Tarr and McCollam worked out of their homes, in Contra Costa County, near San Francisco. McCollam handled the paperwork, and Tarr prospected for clients. McCollam says they recommended that clients put 60 percent to 70 percent of their money in variable annuities. With variable annuities, customers invest in mutual funds and typically get insurance that offers a death benefit, providing heirs a minimum payout. Earnings are tax-deferred. McCollam and Tarr also put clients' money in nontraded REITs. The REITs generated dividends of 6 percent to 8 percent a year, providing an alternative to the vagaries of the stock market, Tarr says.
Investing in a variable annuity within an IRA "may not be a good idea" because it provides no additional tax savings over an already tax-advantaged IRA, according to an alert on the website of the Financial Industry Regulatory Authority, Wall Street's self-policing group. The annuities generate "fees and commissions for the broker or salesperson" that increase costs for the buyer, Finra says. The group also warns that nontraded REITs are hard to cash in and that commissions and other expenses can be as high as 15 percent.

McCollam says he, Tarr, and Royal Alliance would receive a total commission of as much as 6 percent or 7 percent of the money that clients invested in variable annuities and nontraded REITs. Over time the pair signed up as many as 500 customers, most from AT&T, according to McCollam. Overseeing about $90 million in investments, their business generated $600,000 to $700,000 in annual commissions—and $1 million in its best year, he says. AT&T employees rolled over both 401(k)s and one-time payments they took instead of pensions.
Mark Siegel, an AT&T spokesman, says the company provides information about benefits but doesn't endorse financial advisers. He says AT&T periodically sends alerts to employees, such as an e-mail from last October, which warned: "You should research the individuals contacting you and their organizations before doing business with them."
As their investments soured, 37 customers complained about Tarr to Finra. Fifteen of these complaints are pending, four were settled, and 18 were closed without action. The agency lists 11 complaints against McCollam.
In 2010, Royal Alliance dismissed Tarr and McCollam, citing a failure to follow a policy for preapproval of variable annuities, according to a Finra filing. Tarr says she was fired after she had already moved to another firm, and Royal Alliance was upset because she took customers along. "No client was adversely impacted by any omission by either Mr. McCollam or Ms. Tarr—all transactions were ultimately reviewed and determined appropriate," Linda Malamut, a Royal Alliance spokeswoman, said in a statement. "Further, the terminations were unrelated to any transaction by a client who filed a complaint with Royal Alliance."
On June 12, seven former clients of Tarr's who had worked at AT&T sued Royal Alliance in state court in Alameda County, Calif. The complaint alleges breach of fiduciary duty, fraud, and failure to supervise its brokers. The former employees were placed "in totally unsuitable investments" that were "designed to maximize the commissions and fees" paid to the company and the brokers, according to the lawsuit. One of the people suing is Maria Lew, a former AT&T administrative assistant and Tarr client whose nontraded REITs have lost $145,000 in value, according to her lawyer. "I was old-fashioned like my mom about planning for the future," Lew says. "I never thought I'd end my years worrying about money."
Before it's here, it's on the Bloomberg Terminal.
LEARN MORE