Ukrainian President Plans Cease-Fire Talks Amid Violence
Volodymyr Verbyany, Kateryna Choursina and Daryna Krasnolutska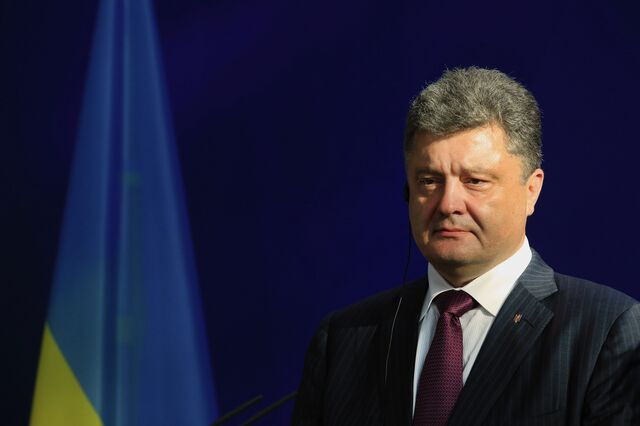 Ukrainian President Petro Poroshenko will meet government officials from conflict-wracked regions as he seeks to muster support for his proposed unilateral cease-fire amid reports of fighting in the east.
As the president prepares for today's cease-fire plan meetings that aim to quell months of violence in the country's easternmost regions, NATO chief condemned Russia for a new buildup of forces near its border with Ukraine. Russia said the escalation of the conflict in Ukraine was reaching new levels, according to Foreign Ministry spokesman Alexander Lukashevich.
"I can confirm we now see a new Russian military buildup on the Ukrainian border, a few thousand more troops," North Atlantic Treaty Organization Secretary-General Anders Fogh Rasmussen said at a Chatham House event in London. The buildup is "a very regrettable step backwards."
Ukraine has been battling separatists after Russia annexed its Black Sea Crimea peninsula in March. It accuses its neighbor of stoking pro-Russian unrest by supplying weapons, military vehicles and mercenaries. Russia denies aiding the insurgents and is calling on Ukraine to halt an offensive to rein them in. The neighbors are also in conflict over gas after Russia cut off supplies this week because of unpaid bills.
'Long-Term Prospect'
"De-escalation of the violence remains a long-term prospect, regardless of the rhetoric coming from the Poroshenko administration since its inauguration," Eurasia Group analysts said in an e-mailed report. "The separatists are a key asset for the Kremlin as it tries to ensure Kiev is unable to align itself fully with western political, economic, and security structures."
Poroshenko, who is to officially present the peace plan tomorrow, said talks today with eastern officials will only include "legitimate" politicians, mayors and entrepreneurs from the Luhansk and Donetsk regions, according to a statement on the presidential website. Pro-Russian separatists indicated they'd reject a cease-fire that Poroshenko wants to call within days.
Ukrainian government forces were in an "active phase" of an offensive near Krasnyi Liman in the Donetsk region as rebels refused to surrender weapons, Interfax news wire reported, citing Defense Ministry spokesman Vladyslav Seleznyov. The rebels suffered "significant losses," IFX said without elaborating.
Rebels Attack
In Kramatorsk, rebels attacked Ukrainian forces, Seleznyov said on his Facebook account.
The cease-fire "will be quite short," Poroshenko said in a statement posted on his website yesterday, adding that insurgents will be given a limited window to lay down their arms, with those who haven't committed any serious crimes to be offered amnesty and safe passage out of the country.
Vice President Joe Biden talked with Poroshenko by phone yesterday and said Russia led by President Vladimir Putin faces the threat of further economic sanctions if it doesn't do more "to exercise its influence among the separatists to lay down their weapons and renounce violence, both of which Russia has thus far failed to do," according to a statement released by the White House.
The U.S. and the European Union already have imposed sanctions on people and companies close to Putin because of Russia's role in destabilizing Ukraine.
Halt Violence
Russian Foreign Minister Sergei Lavrov stressed the need to halt violence in southeastern Ukraine in his phone conversation with German Foreign Minister Frank-Waler Steinmeier today, the Russian Foreign Ministry said.
Lavrov expressed concern that some leaders in Kiev were using force to end protests instead of a national dialog, according to the statement.
Bonds in Ukraine and Russia today extended yesterday's rally on the cease-fire plan. The yield on securities due in April 2023 fell six basis points to 8.98 percent at 3:23 p.m. in Kiev. In Moscow, the yield on government bonds due February 2027 was down 10 basis points to 8.57 percent.
Poroshenko's cease-fire proposal is "nonsense," according to Denis Pushilin, the leader of the self-declared Donetsk People's Republic, who spoke yesterday to Russia's independent Dozhd TV.
"They cease fire, we lay down arms and they detain us," he said. "We want the occupiers to leave our territory."
The clashes have forced thousands of Ukrainians from their homes. More than 18,900 refugees from Ukraine live in Russia, RIA Novosti reported today, citing Alexander Drobyshevsky, the spokesman for Russian Emergencies Ministry.
Hundreds have died in eastern Ukraine, including servicemen, insurgents and civilians. The number of government troops who have lost their lives since the unrest began has reached 147, Interfax reported yesterday, citing a Defense Ministry medical official, Vitaly Andronatiy.
Before it's here, it's on the Bloomberg Terminal.
LEARN MORE