1,083 Assassinations and Other Performance Metrics: ISIS's Year in Review
By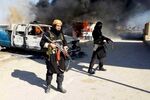 The extremist group engaged in a broad-based insurgency in Iraq oversaw 1,047 targeted attacks, 57 sniper engagements, and set up 30 checkpoints last year. Assassinations were up more than 85 percent from the year prior, to 1,083, as were improvised explosive devices (IEDs: 4,465) and rocket attacks (607).
The figures come from the latest annual report (pdf) issued by the Islamic State of Iraq and the Levant, better known as ISIL, which appears to have been issued in March. The document demonstrates yet again that Islamist groups overtly committed to eradicating modern, Western influences from Muslim countries often embrace modern, Western business practices in their organizations.
Last December, the Associated Press documented the strict expense-tracking procedures employed by Al-Qaeda in the Islamic Maghreb, whose managers insisted on receipts—often written on Post-It notes—for everything from soap and macaroni to light bulbs and tubes of Super Glue.
The numbers in the 400-page ISIL report address activities in Iraq, though they predate the group's current campaign, which has Iraq teetering on the brink of full-blown civil war. But the report is clearly the work of leaders committed to building what a Washington think tank, the Institute for the Study of War, describes in a recent analysis as "a metrics-driven military command." The second page of the text-heavy Arabic document features a nifty "summary of operations" graphic highlighting 7,681 confirmed military operations, complete with Grand Theft Auto-style icons for car bombs, motorcycle bombs, and rocket attacks.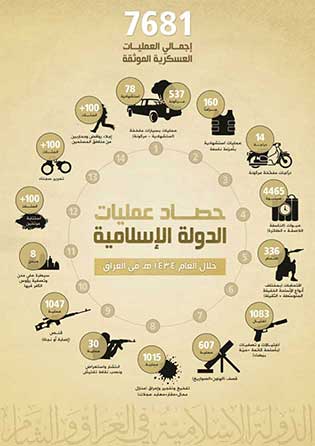 Farther into the document, according to ISW's translation, ISIL claims an increase in discrete operations, from 4,500 in 2012 to 9,540 in 2013, covering everything from suicide vest attacks to knife murders—and in one isolated case, "apostates run over." Its chosen metrics include not just violent attacks, but ideological successes: In 2012, the report says, only "several" apostates repented; in 2013, however, ISIL fighters recorded that "hundreds" repented in the southern part of Iraq.
"ISIS [another translation of the group's Arabic name] and al-Qaeda, for that matter, have always been highly bureaucratic organizations," says Aaron Zelin, an expert on jihadist groups at the Washington Institute. "They document everything so they have a record of what's going on." Their leaders, Zelin adds, are frequently highly educated, and many have business experience that informs their approach to running terror operations.
"These aren't just random people off the street," Zelin says. "Unfortunately, we underestimate them."
Before it's here, it's on the Bloomberg Terminal.
LEARN MORE