Siemens Joins Mitsubishi to Pledge Guarantees for Alstom
Francois de Beaupuy and Alex Webb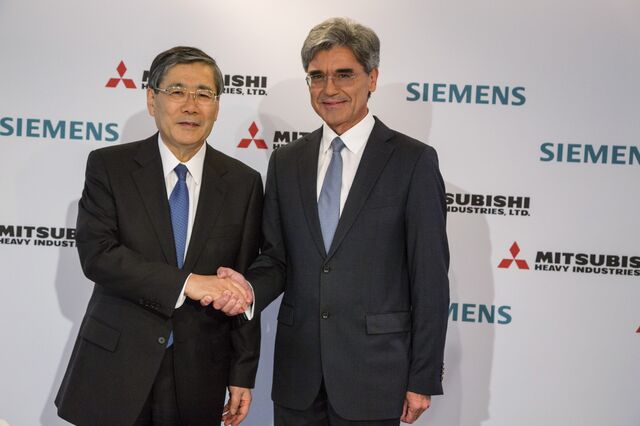 Siemens AG and Mitsubishi Heavy Industries Ltd. chief executives officers argued their case for a joint purchase of Alstom SA's energy operations, saying their bid trumps an offer from General Electric Co. as they push to secure backing for their proposal from the French government.
Siemens CEO Joe Kaeser yesterday told lawmakers in France's National Assembly that his bid would safeguard jobs and investments, three weeks after GE CEO Jeffrey Immelt pitched his offer to the same audience. The Siemens-Mitsubishi offer values Alstom's energy assets at 14.2 billion euros ($19.3 billion), compared with GE's 12.35 billion-euro valuation, Siemens said in a presentation in Paris.
The rare appearance of foreign CEOs before France's National Assembly highlights how both sides are trying to win the backing of the French state, which is seeking to extract the best guarantees on jobs and energy independence.
The German-Japanese proposal, unveiled on Monday, opens the race for the French manufacturer and may put pressure on GE to refine the terms of its offer. Immelt announced his bid seven weeks ago as he tries to expand in Europe and win business from Munich-based Siemens, the region's biggest engineering company.
Government Talks
Siemens is offering 3.9 billion euros for Alstom's gas turbines, while Japan's Mitsubishi Heavy and partner Hitachi would pay 3.1 billion euros for stakes in the steam-turbine, power-grid and hydro businesses. Mitsubishi has approached Bouygues SA about acquiring a stake of as much as 10 percent in Alstom, a stake valued at about 900 million euros, CEO Shunichi Miyanaga told the lawmakers, adding that he wants the French state to also take a 10 percent stake in the French company to support the deal.
Siemens shares dropped 0.1 percent to 99 euros in Frankfurt as of 9:45 a.m while Alstom gained 0.2 percent to 29.04 euros in Paris.
"Our bid would strengthen Alstom and inject 7 billion euros in cash," Kaeser said before France's National Assembly. "That would help to safeguard jobs and allow investment in research and development."
The German manufacturer would also be willing to combine its entire rail business with Alstom's to create a leading European company, Siemens Chairman Gerhard Cromme said in Paris, after he, Kaeser and Miyanaga met with French President Francois Hollande.
Alstom Support
While Alstom helped broker the GE plan and has supported the U.S. company, Siemens has sought to play up its appeal with governments in France and Germany, which are keen to back the creation of leading European companies in energy and transportation. The French government owns controlling stakes in two of Alstom's biggest clients, the national power company and the state rail operator.
GE is in talks with France to refine guarantees on jobs, planned investments and access to nuclear technology to distinguish its bid, people familiar with the matter said.
The measures include a promise for an independent audit to ensure GE honors a pledge to create 1,000 industrial jobs in France as part of an Alstom deal, said one of the people, who asked not to be identified because the details are private. GE also is willing to make commitments for future spending on France-based operations, one person said.
'Too Complex'
Kaeser offered France 1,000 new jobs and 1,000 additional apprenticeships as part of the deal, with Mitsubishi promising to open a joint research and development center in France. France is seeking further improvement in the bids, according to a government official, even as Kaeser said Hollande had expressed no such sentiment in yesterday's meeting.
While Kaeser said his plan would keep large parts of Alstom intact and create jobs, enlisting the support of the two Japanese manufacturers complicates his proposal.
"It's not a simple decision," said Ingo-Martin Schachel, an analyst at Commerzbank AG in Frankfurt, who advises investors hold Siemens shares. "While Siemens' offer might seem more attractive financially, it is also more complex."
GE last month extended its deadline for Alstom to decide whether to accept its offer to June 23 after Siemens demanded an equal opportunity to decide whether and how to bid.
The Siemens-Mitsubishi offer may fail to convince Alstom's board, as it would break apart the company's steam- and gas-turbine business, William Blair & Co. analyst Nick Heymann said in a Bloomberg TV interview.
"That's really not viable since all turbines, except those sold for coal and nuclear plants, are sold bundled with gas turbines for combined cycle applications," he said. "So breaking them apart reduces their critical after-market for service and sales."
Before it's here, it's on the Bloomberg Terminal.
LEARN MORE