Popeyes Buys Its Recipes for $43 Million. Wait, Popeyes Didn't Own Its Recipes?
By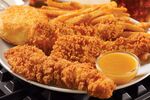 Food companies go to great lengths to safeguard their coveted recipes—KFC's and Coca-Cola's are stored in vaults—no doubt because they're considered to be any successful brand's secret weapon. Yet curiously, a recipe isn't always owned by the restaurant. Such has been the case at fried-chicken chain Popeyes, which announced on Tuesday that it just bought several recipes used in its core menu for $43 million. (The chain won't specify which recipes.) How did it not own its recipes?
Until now, the recipes have belonged to Diversified Foods and Seasonings, a Louisiana food manufacturer started by Popeyes founder Al Copeland in 1984 after he opened Popeyes. For the last 23 years the chicken chain has paid DFS a $3.1 million "spice royalty" to license the use of its recipes.
It's a peculiar arrangement dating back to the early 1990s, when Copeland was forced to step down as chief executive of Popeyes' parent company following a bankruptcy reorganization. It left him as a franchisee of 26 Popeyes and Church's restaurants, and with a 12-year contract to supply DFS products to the chain. DFS makes biscuit, cake, and meat mixes; batters; seasoning blends; gravies; soups; sauces; and sides like macaroni and cheese, spinach and artichoke dip, and jambalaya and grits, according to its website. After he left Popeyes, Copeland retained ownership of Popeyes' recipes and continued to collect royalties for their use. Copeland died in 2008, and DFS is now owned by his estate.
DFS had an agreement to supply Popeyes through 2029, and the $43 million value on Tuesday's deal represents a discount on the expected 15 years of future royalties. The sale doesn't sever ties between DFS and Popeyes: DFS will continue to be the exclusive supplier of spices and other products to the chain.
Before it's here, it's on the Bloomberg Terminal.
LEARN MORE