The Colbert Report's TV Production Software Is No Joke
An in-house tech startup wants to replace script creator programs
by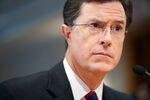 When Stephen Colbert leaves his desk at Comedy Central later this year to replace David Letterman at CBS, he'll be remembered for his right-wing blowhard character, his super PAC, and his contribution of the word "truthiness" to the English language. He may also leave a lasting mark on the obscure world of TV production software. There are coders hiding among the comedians on The Colbert Report staff, and in the past few years they've created a program the show now uses to write and produce segments. Several staffers have formed a startup, Scripto, to develop the software and license it to other TV shows.
Scripto's bare-bones website describes its product as a "collaborative text editor that allows a show's entire staff to work on the same set of scripts at the same time" and says it's "currently expanding to other clients." For about a year, The Colbert Report has been using a beta version developed by writer Rob Dubbin and other staffers over three years. Dubbin declined to comment for this story, saying that the startup wasn't far enough along to discuss.
The decades-old programs used by most television shows are clunky. They require the rote learning of dozens of arcane commands, lack multiple-party editing features standard since the advent of Google Docs, and work only with hardware that's becoming obsolete.
These creaky tools of the trade are an irritant to producers, says Jeff Zimmerlin, a former news producer at NBC and CBS affiliate stations. His startup, Rundown Creator, makes Web-based production software that has been used by companies including NBCUniversal and the New York Times. A job listing for a chief technology officer on Scripto's site suggests that its product will also be Web-based.
Such software is more flexible and easier to use than the old systems, but major broadcasters can be hesitant to change their ways, Zimmerlin says. "The big concern for broadcasters is that their Internet is going to go down," he says. "There's a lot of inertia holding them back." Another factor: The old systems are built on software licenses that have been paid for; Rundown Creator charges monthly per-user subscription fees.
Writing code is usually less entertaining than writing jokes, but the people behind Scripto have a record of making programming funnier. Dubbin has created some grin-inducing Twitter bots—programs that produce automated tweets—including one that posts under the name @OliviaTaters and incorporates prose from Twitter users who often use the words "literally," "actually," and "really." The grammar and behavior rules coded into Olivia result in a semiplausible impression of a human teenager, and the bot carries on protracted conversations with people who don't seem to realize it's not a person.
Darius Kazemi, a freelance programmer who works part-time for Scripto, has an extensive history creating funny Twitter bots and other prankish software. His bot @AmIRite floods Twitter with faux hackneyed stand-up material such as, "Los Angeles Laker? More like Los Angeles Taker, amirite?"
It's unclear whether the program will follow Colbert to CBS. Representatives for The Colbert Report didn't respond to requests to discuss the project, and a Late Show spokesman says he didn't know it existed. But on their nightly comedy show, where talented people must meet tight deadlines, Dubbin and his colleagues may have stumbled on the perfect test lab for collaboration software, a hot topic in the unsexy world of enterprise tech.
Before it's here, it's on the Bloomberg Terminal.
LEARN MORE