Telecom Italia's Owners Head for Breakup After Seven Years
Daniele Lepido and Rodrigo Orihuela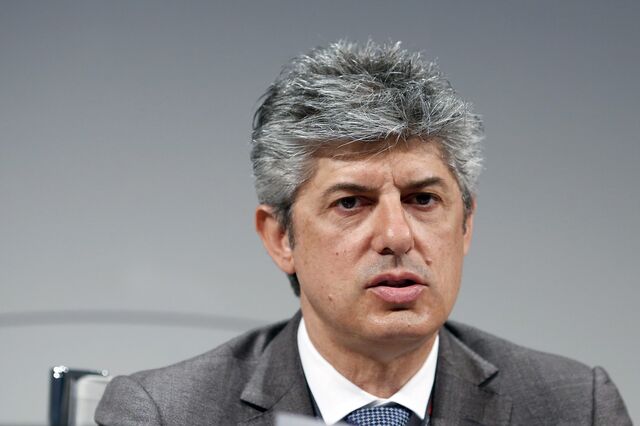 Mediobanca SpA and Intesa Sanpaolo SpA joined Assicurazioni Generali SpA in withdrawing from Telecom Italia SpA's largest investor group, unraveling a shareholder pact after seven years.
Mediobanca and Intesa said in separate statements today that they exercised their rights to seek a demerger of Telco, the investment vehicle that owns 22.4 percent of Italy's largest phone company. Generali announced its intention to do the same last week. The three financial investors together hold 34 percent of Telco.
Dissolving Telco, which was set up in 2007 as Telecom Italia sought to fend off a takeover bid by AT&T Inc. and Carlos Slim's America Movil SAB, would leave Spain's Telefonica SA -- the leading investor in the vehicle -- with a direct stake of 15 percent at a market value of 2.6 billion euros ($3.5 billion). Such a change could intensify a conflict in Brazil, where Telefonica and Telecom Italia own competing carriers.
Telefonica Brasil SA, which sells services under the Vivo brand, and Tim Brasil, controlled by Telecom Italia, dominate the country's mobile-phone market with a 56 percent share. After Telefonica tightened its grip on Telecom Italia by boosting its stake in Telco last September, Brazilian regulator Cade ordered Telefonica to reduce its holdings in the country or persuade Telecom Italia to sell Tim.
Brazil Discord
The departures of the three Italian partners could open the way for new activist shareholders to enter the company and push for a sale of the Brazilian assets, according to Andres Bolumburu, a Madrid-based analyst at Banco de Sabadell SA.
"Somebody has to fill the void" that will be left by their exits, Bolumburu said in a telephone interview. "They could push to accelerate sales and lower debt."
Telecom Italia has seen infighting between shareholders in the past, with Findim Group SA's Marco Fossati leading a group that tried in April to have Vito Alfonso Gamberale rather than Telco-nominated Giuseppe Recchi elected chairman. Fossati, whose Findim owns about 5 percent of Telecom, is pushing to increase investor participation in corporate governance.
Telecom Italia and Telefonica remain locked in disagreement over the future of Tim. While Telecom Italia Chief Executive Officer Marco Patuano is in favor of keeping Tim and expanding it through an eventual merger with Vivendi SA's GVT unit, Telefonica and Oi SA -- the country's No. 4 wireless carrier -- are exploring a plan to break up Tim as early as this year, people familiar with the matter said last month.
Shares Decline
Telefonica could also resolve the conflict by selling its holding in Telecom Italia. Telecom Italia shares fell 4.2 percent to close at 94.6 euro cents in Milan.
Representatives for Madrid-based Telefonica and Milan-based Telecom Italia declined to comment.
The September agreement among Telco partners gave them the right to unwind their interests starting yesterday. They have written down their stakes multiple times over the years as intensifying competition in phone and Internet services has hurt sales, earnings and Telecom Italia's stock price. Since Patuano took over as CEO, Telecom Italia shares have jumped about 50 percent, helped by asset sales to reduce debt.
Mediobanca and Intesa hold 7.3 percent of Telco each. Breaking up Telco would leave them with a 1.6 percent direct stake in Telecom Italia each. Mediobanca said today it will record a one-time gain of about 110 million euros, adding to a 67 million-euro gain it recorded in its fiscal first half.
Unwinding the investors' holdings could take six months. After the demerger, each partner will get back Telecom Italia shares as well as its share of debt. Telco has total debt of 2.47 billion euros, according to its most recent financial report.
Before it's here, it's on the Bloomberg Terminal.
LEARN MORE