Osborne to Give Bank of England New Mortgage Controls
Svenja O'Donnell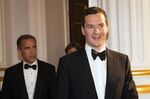 Chancellor of the Exchequer George Osborne promised the Bank of England new powers over mortgage lending to prevent the strengthening housing market derailing the recovery.
While real estate poses no immediate threat, it could do in the future unless action is taken, Osborne said his annual speech at the Mansion House in London tonight. Under the plans, financial-stability officials would be able to cap the size of mortgages as a proportion of income or property value.
"I want to make sure the Bank of England has all the weapons it needs to guard against risks in the housing market," Osborne said. "I want to protect those who own homes, protect those who aspire to own a home, and protect the millions who suffer when boom turns to bust."
The move follows warnings by the European Commission and the International Monetary Fund that surging U.K. house prices and greater indebtedness may pose a threat to financial stability and the economic recovery. BOE Governor Mark Carney will deliver his own speech immediately after the chancellor.
The new controls will give Carney more power over the mortgage market than his predecessor, Mervyn King, wanted when he was governor. When the Financial Policy Committee was deciding in 2012 on the "powers of direction" it might need, it resisted requesting authority over loan-to-income and loan-to-value ratios as these would require a high level of "public acceptability."
Loans Limits
If FPC officials think some borrowers are being offered "excessive" loans, they can limit the proportion of high loan-to-income mortgages each bank can lend and even ban new lending above a specific multiple, Osborne said. Should they judge that a dangerous bubble is developing, they will also be able to set Hong Kong-style limits on loan-to-value ratios.
Any action taken to cap loan-to-income ratios will also be applied to mortgages taken out under Help to Buy, a government program to aid people with small down payments.
Recent data on new lending shows that while loan-to-value ratios remain well below their peak, loan-to-income ratios are at a new high.
According to the Council of Mortgage lenders, first-time buyers borrowed 3.42 times their gross income in the first quarter. The ratio was 3.83 in London, where new entrants to the property market borrowed 200,000 pounds ($337,000) on average -- almost double the U.K. average.
London Surge
Nationwide Building Society estimates first-time buyers in the capital spend 55 percent of their take-home pay on mortgage payments and house prices are eight times earnings. House prices in London surged 17 percent in March from a year earlier, more than three times the pace across other U.K. regions, official data show.
"If London prices were to continue growing at these rates, that would be too fast for comfort," Osborne said. "And the rate of price rises is now beginning to spread beyond London."
Osborne also announced further reforms to planning rules, providing permission for 200,000 new homes. The IMF urged the government in its June 6 report on the U.K. to address the issue of housing supply, which is being partially blamed for soaring values.
Councils will be required to put in place pre-approved planning permissions on brownfield sites suitable for housing, allowing developers to get building sooner.
Osborne also said he plans to introduce criminal charges for traders who manipulate currency rates or borrowing costs. Laws imposing as much as seven years in jail for Libor manipulation will be extended to gauges used in foreign-exchange, fixed-income and commodity markets, he said.
"The integrity of the City matters to the economy of Britain," Osborne said. "I am going to deal with abuses, tackle the unacceptable behaviour of the few, and ensure that markets are fair for the many who depend on them."
Before it's here, it's on the Bloomberg Terminal.
LEARN MORE