Natural Gas Jumps Most in 4 Months on Below-Forecast Supply Gain
Naureen S. Malik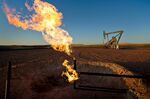 Natural gas futures climbed the most in almost four months, reaching a five-week high, after a government report showed that a U.S. stockpile expansion was smaller than forecast.
Gas rose 5.6 percent, the biggest one-day gain since Feb. 19. The Energy Information Administration said stockpiles grew 107 billion cubic feet in the seven days ended June 6. Analyst estimates compiled by Bloomberg showed an expected increase of 111 billion. Inventories reached 1.606 trillion cubic feet, the lowest level for the time of the year since 2003.
"Natural gas traders are prone to stampede; this is a very one-directional trade so there were not a lot of people selling into this rally to slow it down," said Tim Evans, an energy analyst at Citi Futures in New York. "We've had eight consecutive weeks with storage injections above the five-year average and the only bullish argument over this eight-week span is that it's still not enough."
Natural gas for July delivery advanced 25.4 cents to $4.762 per million British thermal units on the New York Mercantile Exchange, the highest settlement since May 6. Volume for all futures traded was 85 percent above the 100-day average at 2:35 p.m. Prices are up 13 percent this year.
September $5.50 calls, the most actively traded options, rose 2.3 cents to 4.7 cents at 2:38 p.m. on volume of 1,558 contracts.
The storage injection was bigger than the five-year average gain for the week of 88 billion cubic feet and the year-earlier increase of 97 billion, according to the EIA, the Energy Department's statistical arm. A deficit to the average narrowed to 35.3 percent from 37.4 percent the previous week. Supplies were 31.2 percent below year-earlier levels, compared with 33 percent in last week's report.
Below Expectations
"Demand has been solid, supply is solid, but with the deficit that we have, we need to have 110s and 115s," said Kyle Cooper, director of research with IAF Advisors in Houston.
Commodity Weather Group LLC in Bethesda, Maryland, predicted seasonal temperatures across most of the lower 48 states in the next five days will give way to above-normal readings on the East and West coasts for June 17-21.
The high in Washington on June 20 may be 94 degrees Fahrenheit (34 Celsius), 8 above normal, said AccuWeather Inc. in State College, Pennsylvania. Atlanta's reading is forecast to be 5 higher than average at 92.
Electricity generators account for 31 percent of gas consumption, according to the EIA.
'Catch-Up Game'
"The heat is not really on yet so injections should continue to be strong for the coming weeks, but the catch-up game is not looking that strong," Drew Wozniak, vice president of market research at United-ICAP, a brokerage in Jersey City, New Jersey, said in a note to clients today.
Gas production rising to a record for the fourth consecutive year will help boost stockpiles to 3.424 trillion cubic feet by the end of the October, which would be the lowest level at the start of the peak heating-demand season since 2008, according to the EIA's June 10 Short-Term Energy Outlook.
To get there, stockpiles increases will have to average about 87 billion cubic feet a week over the next 21 EIA inventory reports. Weekly storage injections have averaged 78 billion so far this year. The five-year average gain for the six-month refill season is 65 billion.
Marketed gas output in the lower 48 states will increase 4 percent to 73 billion cubic feet a day this year, expanding for the ninth straight year as new wells come online at shale deposits such as the Marcellus in the Northeast, according to the June 10 outlook.
"Market sentiment can swing dramatically without warning, just as it did today," Evans said. The reaction to the inventory report was "extreme" given the new production coming online, he said. "We are going to continue to see above-average storage injections."
Before it's here, it's on the Bloomberg Terminal.
LEARN MORE