Lululemon Tumbles After Cutting Forecast
Lindsey Rupp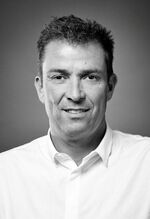 Lululemon Athletica Inc. slumped to the lowest level in three years after the yogawear retailer cut its full-year earnings forecast as it looks to expand into international markets and recover from a product recall.
The shares plunged 16 percent to $37.25 at the close of trading New York time, the lowest since March 2011. They have declined 37 percent so far this year.
Chief Executive Officer Laurent Potdevin said on a conference call today that sales in the current quarter have been slower than expected. During his first six months on the job, he's been seeking to address supply-chain issues and quality checks that slowed deliveries. Lululemon has also been trying to regain shoppers' trust after it recalled its popular line of black Luon yoga pants for being too sheer.
"Slower comparable sales at the beginning of this quarter seem to be what set it off," Dorothy Lakner, a New York-based analyst at Topeka Capital Markets, said in a phone interview about the cut in forecast. "It's certainly not ideal."
Adjusted earnings will be $1.71 to $1.76 a share, down from an earlier forecast of as much as $1.90, Lululemon said today. Analysts projected $1.89, the average of estimates compiled by Bloomberg. Revenue for the year will be as much as $1.8 billion, less than a previous projection of a maximum of $1.82 billion, the Vancouver-based company said in a statement today.
Founder Apologizes
Beyond the yoga pants and the balance sheet, Lululemon has dealt with some contentious issues in the board room. Founder Chip Wilson said yesterday that he voted against the re-election of Michael Casey, who succeeded him as the retailer's chairman, saying the board has been too concerned with short-term results. The founder also voted against re-electing director RoAnn Costin, a financial investing executive who has served on the board since 2007. Wilson owns 27 percent of Lululemon's shares outstanding.
The two directors were ultimately re-elected, the company said. While the board and Wilson are fighting, both support the management team, Potdevin said on the call.
"We're not letting ourselves be distracted," he said.
Wilson also apologized in November for comments he made suggesting its products don't work for some women's bodies. The following month, he said he would step down as chairman before an annual meeting this month.
CFO Retires
Separately today, the retailer said Chief Financial Officer John Currie will retire at the end of the fiscal year.
Today's forecast calls for second-quarter sales of $375 million to $380 million, short of the $387 million estimated by analysts.
First-quarter profit excluding some costs was 34 cents a share, the company said, exceeding analysts' estimates for 32 cents. The figure excludes a one-time adjustment of $30.9 million for the repatriation of foreign earnings to fund a share buyback of as much as $450 million, Lululemon said.
The share buyback will be completed over two years, Lululemon said.
In the first quarter ended May 4, comparable corporate-store sales fell 4 percent at constant exchange rates, while "direct to customer" revenue rose 25 percent. Revenue rose 11 percent to $385 million, beating analysts' estimates of $381 million.
International Expansion
Lululemon is expanding its international presence and plans to have more than 20 stores in Europe and Asia by the end of 2017, Potdevin said. The company's first store in Hong Kong will open by the first quarter of 2015, he said.
Potdevin is shifting Lululemon's international strategy away from a pattern of first opening showrooms -- smaller locations with limited selections and shorter hours -- before finding the right staff and locations for full, permanent stores. The company will now run those processes at the same time, Potdevin said on a conference call in March.
Lululemon will open 14 pop-up stores in the U.S. and Canada to target new shoppers and boost sales, Potdevin said on the call. The company has also made "substantial investment" in digital projects to engage more shoppers, such as a social platform for store employees and adding technology to stores.
Improve Products
The chain is also trying to improve its mix of core products such as Luon yoga pants and seasonal fashion items like its street collections. Lululemon will stock more seasonal items, which have been popular with shoppers and often sell out early in the season, Chief Product Officer Tara Poseley said on the call.
Lululemon is reworking its supply chain to maintain clothing quality after weaknesses in its inspection processes forced it to pull the black Luon yoga pants from shelves last year. The incident prompted Lululemon to add more product tests that have slowed deliveries and damped sales growth.
About two weeks after the recall in March 2013, Lululemon said Chief Product Officer Sheree Waterson was stepping down. Two months later, Christine Day, 52, announced plans to retire as CEO.
Potdevin, 46, replaced Day in January and was most recently president of TOMS Shoes Inc., the company that gives a pair of shoes to a needy child for each pair it sells. Before that, he spent five years as CEO of Burton Snowboards.
The company named Poseley, who had worked at Kmart and Bebe Stores Inc., as product chief in October.
Before it's here, it's on the Bloomberg Terminal.
LEARN MORE