Finland Prepares for Prime Minister Switch as Katainen Quits
Kasper Viita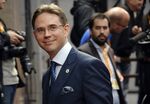 Finns are about to find out who will head their government this weekend as the biggest party in the ruling coalition prepares to vote on a new leader.
Economy Minister Jan Vapaavuori, Europe Minister Alexander Stubb and Health Minister Paula Risikko are neck-and-neck in vying to replace Jyrki Katainen as National Coalition Party head and prime minister. About 850 party members will vote at a conference tomorrow in the southern town of Lahti. Katainen announced in April he would resign to look for a key international position.
Finland is mired in its deepest economic slump since the early 1990s after austerity policies collided with a decline in the country's technology and paper industries. The next prime minister will need to work with a new finance minister, former union boss Antti Rinne, who took over as head of the Social Democrats, one of five parties in Finland's ruling coalition.
While all three candidates seeking to replace Katainen have signaled they will continue existing austerity policies, Rinne has spoken out in favor of more stimulus to rescue growth.
"Finland has taken a pretty hard fall," Reijo Heiskanen, chief economist at OP-Pohjola Group, said by phone. Overhauls such as further changes to health care and pensions are "challenge enough" for the new premier as fiscal maneuvering space is limited, he said.
Stubb's Popularity
Stubb, a 46-year-old former foreign minister and adviser to the European Commission, tops polls measuring electorate support and last month won the most personal votes in Finland in the European Parliament election. Vapaavuori, 49, also served as housing minister in a previous government and has strong support in his hometown Helsinki. Risikko, whose power base is outside the biggest cities, appeals to more conservative members, according to Mari K. Niemi, a researcher in political science at the University of Turku.
Vapaavuori is the 1.85 times the favorite to win, ahead of 2 for Stubb and 3 for Risikko, according to odds yesterday from bookmaker Unibet Group Plc. If no one gets a majority in the first vote, a second round with the top two will follow.
Stubb's popularity may not translate into a win at the party level, Niemi said.
"The National Coalition has previously made very independent decisions," she said by phone. "In the second round, the winner may well be the prior round's runner-up -- the one seen as less divisive."
Austerity Discord
Of the three candidates, Risikko, 54, is the only one who's signaled willingness to discuss the kind of stimulus proposed by Rinne, the new finance minister.
"We can't think that these stimulus measures have been sufficient and we absolutely need to take more action," she said in Helsinki on June 6. "We have to open the discussion about further stimulus."
Katainen ran the National Coalition for 10 years, never suffering an electoral defeat. Under his leadership, the party became Finland's largest in the 2011 general election, marking a first for the party since the nation won independence in 1917.
The government, in power since 2011, has agreed on austerity measures totaling 6.8 billion euros ($9.2 billion) by 2017, equal to about 3 percent of gross domestic product, to protect Finland's AAA rating. Its latest budget package, hammered together in March, prompted the Left Alliance party to quit the six-party alliance. Members of the Green League have also called on the party to leave the government over an expansion into nuclear energy.
Depressed State
Finland's central bank said this week that the economic stagnation will be prolonged through this year as exports fail to recover. Gross domestic product will be unchanged in 2014, down from a 0.6 percent growth forecast in December, the Bank of Finland said. The economy will expand 1.4 percent next year, slower than the 1.7 percent previously projected, it said.
A report released today showed GDP grew an annual 1.2 percent in April, after a revised 1.1 percent contraction in March, Statistics Finland said today, citing a trend indicator for output.
Finland's government has responded to the recessions by allowing public debt to rise by 47 billion euros net since 2008, to a total of 110 billion euros.
Finland's austerity program has attracted criticism, including by Nobel laureate Paul Krugman, who said earlier this year that the nation's economy was in a "depressed" state.
Nordea Bank AB, the biggest Nordic bank, says the government needs to stay the course. Debt is estimated by the central bank to breach European Union rules this year, rising to 60.3 percent of GDP from last year's 57 percent.
"The best-case scenario is that the leaders reach a mutual understanding on how bad the situation really is and clearly accelerate reforms," Aki Kangasharju, chief economist at Nordea in Helsinki, said by phone. "If it leads to a worse deadlock and the tearing apart of policy decisions already agreed on, that's the worst option."
Before it's here, it's on the Bloomberg Terminal.
LEARN MORE