Delta Tumbles Most in S&P 500 as Oil Rises on Iraq Strife
Mary Schlangenstein and Michael Sasso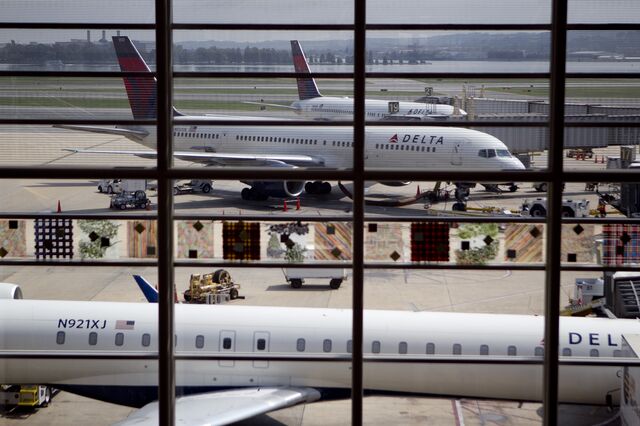 Delta Air Lines Inc. fell the most on the Standard & Poor's 500 Index, extending a decline among U.S. carriers, as violence in Iraq pushed oil prices to an eight-month high.
"Crude jumping up has an impact on earnings in the shorter term," Savanthi Syth, a Raymond James Financial Inc. analyst, said today in an interview. "Longer term, hopefully they can push through fare increases to cover that."
Jet fuel, refined from crude, and labor are airlines' largest expenses. The price had climbed just 1.2 percent in the 12 months ended June 6, when an al-Qaeda offshoot extended its control over northern areas of Iraq and raised concern that oil supplies may tighten. A 2.9 percent jump today was the most since October 2012.
Delta fell 5.4 percent to $38.50 at the close in New York, while Southwest Airlines Co.'s 4.5 percent plunge to $25.72 was the third-biggest on the S&P 500. More than 36.2 million Delta shares changed hands, triple the stock's average daily volume in the three months before today.
All 11 carriers in the Bloomberg U.S. Airlines Index retreated, dragging the gauge to its biggest two-day slide since April 2013. Leading the slump was United Continental Holdings Inc., which declined 5.9 percent, followed by Delta.
'Long Time'
"It's been a long time since we've seen this kind of a move in the airlines," said Kevin Crissey, an analyst at Skyline Research LLC in Mahwah, New Jersey. "In the past, quite frequently you'd have a 5 percent drop in a day. We've not had that in a while."
West Texas Intermediate crude climbed $2.13, or 2 percent, to settle at $106.53 a barrel on the New York Mercantile Exchange. That was the highest since September. Iraqi soldiers clashed today with Islamist militants who seized major cities in a challenge to Prime Minister Nouri al-Maliki's government.
The prospect of rising fuel bills marks a rare setback this year for a U.S. industry benefiting from the recent stability in jet-kerosene prices and strong demand heading into the peak summer travel season. The Bloomberg index surged 72 percent in the 12 months through yesterday.
"Some kind of profit-taking here is not surprising," said Raymond James's Syth, who is based in St. Petersburg, Florida. "We've had a really strong run in the sector for a few weeks. I don't think there's anything here that fundamentally changes our view on the U.S. sector."
Lufthansa Example
U.S.-based carriers aren't feeling the pressure from Persian Gulf airlines and excess passenger capacity that spurred Germany's Deutsche Lufthansa AG to trim its earnings forecast for 2014 and 2015, said Dan McKenzie, a Buckingham Research Group analyst in New York.
"We'd use today's pullback in airline stocks as an opportunity to add to positions with an eye to a 6-12 month return," McKenzie said in a report to investors. "Near term, the stocks could remain under pressure on macro instability tied to Iraq. Bottom line, estimates for most need to rise on a solid domestic demand backdrop, driven by strength in corporate travel spend."
Before it's here, it's on the Bloomberg Terminal.
LEARN MORE