U.S. Stocks Fall, Oil Climbs on Iraq Conflict; Bonds Gain
Oliver Renick and Mark Shenk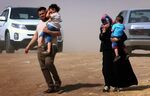 U.S. stocks slumped the most in three weeks and oil climbed to an eight-month high as violence escalated across Iraq. Treasuries rallied on signs the U.S. economic recovery remains uneven.
The Standard & Poor's 500 Index slipped 0.7 percent at 4 p.m. in New York, and the Nasdaq Composite Index tumbled 0.8 percent. West Texas Intermediate oil rose 2 percent to $106.53 a barrel, the highest since September. The yield on 30-year Treasuries dropped 5 basis points, the most in two weeks, to 3.41 percent. The pound jumped against the dollar on comments from the Bank of England governor. The S&P GSCI gauge of 24 commodities surged 1.7 percent, the biggest increase in nine months. Natural gas climbed the most in almost four months.
A surge in violence across Iraq, three years after U.S. troops withdrew, raised the prospect of a return to sectarian civil war in OPEC's second-biggest oil producer. Intel Corp. jumped 5.1 percent in extended trading after boosting its full-year revenue target. Mark Carney said the Bank of England could raise interest rates from a record low earlier than investors expect. U.S. retail sales rose less than forecast in May while jobless claims increased last week.
"This is a major geopolitical event for the oil market," said John Kilduff, a partner at Again Capital LLC, a New York-based hedge fund that focuses on energy. "Iraq had been a bright spot ramping up production and now we're in the midst of a very ugly conflict."
Brent jumped 2.8 percent to $113.02 a barrel, the highest level since Sept. 9. The volume of WTI futures traded on the New York Mercantile Exchange was 72 percent higher than the 100-day average at 2:59 p.m.
Islamist Militants
Iraqi forces sought to check the rapid advance of Islamist militants who had seized major cities, as Prime Minister Nouri al-Maliki responded to the greatest threat to his government since taking power. The Shiite-led government is struggling to retain control of Sunni-majority regions, and al-Maliki's army units in northern Iraq collapsed in the face of the Islamist advance.
"The Middle East may not matter as much as it used to for global energy markets, but the collapse of democracy in Iraq and the risk of extremists being the dominant political force in the region is already making some commentators question how long the U.S. 'hands-off' policy will really be maintained," Kit Juckes, global strategist at Societe Generale SA in London, wrote in an e-mailed note today.
President Barack Obama said he won't rule out using airstrikes to assist Iraq's government. Iraq "clearly is an emergency situation" and the government there needs more help, Obama said following a meeting with Australian Prime Minister Tony Abbott at the White House.
Global Growth
The Dow Jones Industrial Average dropped 0.6 percent and the S&P 500 slipped 0.4 percent yesterday as the World Bank cut its forecast for global growth. U.S. House Majority Leader Eric Cantor's loss to a Tea Party-backed candidate in a Virginia primary fueled concern about further gridlock in Washington.
The benchmark index dropped for a third straight day today, giving it the longest losing streak in two months. The S&P 500 had closed at a record for four straight sessions through June 10.
"People are looking for a reason to sell stock right now," Dan McMahon, director of institutional equity trading at Raymond James and Associates, said in a phone interview. "You can't make new highs every day, and with uncertainty coming out of D.C. yesterday, there would have to be a really compelling reason to buy right now."
Retail Sales
Delta Air Lines Inc. fell 5.3 percent, the most since August and the largest decline in the S&P 500, as airlines tumbled. Diamond Offshore Drilling Inc. and Noble Corp. climbed at least 3.2 percent as energy producers added 0.3 percent for the largest advance among 10 S&P 500 industries.
After the close of the market, Intel raised its forecast for second-quarter revenue as demand for corporate personal computers picks up. The forecast is a bright spot in the PC industry, where Intel gets the majority of its revenue, after two straight years of declining shipments.
Data today showed retail sales increased 0.3 percent last month followed a revised 0.5 percent gain in April that was much larger than previously estimated. The median forecast of 83 economists surveyed by Bloomberg called for a 0.6 percent advance. Jobless claims climbed to 317,000 in the week ended June 7, the Labor Department said. Analysts predicted 310,000.
Extreme Weather
Treasuries rallied as signs the U.S. economic recovery remains uneven and tension in Iraq bolstered demand at the government's 30-year bond auction.
Indirect bidders, a class of investors that includes foreign central banks, bought the largest percentage of the debt in more than eight years at the auction. Along with direct bids, that left the 22 primary dealers that bid at Treasury auctions with the smallest percentage of the sale on record.
Treasury 10-year note yields fell 5 basis points to 2.60 percent and the 30-year rate dropped 5 points to 3.41 percent.
The pound rose 0.8 percent to $1.6927. Carney said the Bank of England could raise rates earlier than investors expect as he expressed concern that mounting debt related to the housing market could undermine stability.
"There's already great speculation about the exact timing of the first rate hike and this decision is becoming more balanced," the BOE governor said in a speech at the Mansion House in London today after European equities markets closed. "It could happen sooner than markets currently expect."
The Stoxx Europe 600 Index was little changed, erasing an earlier gain of 0.3 percent. The gauge slid yesterday from its highest level since January 2008 as companies including Deutsche Lufthansa AG and Vallourec SA cut their profit forecasts.
Natural Gas
Natural gas futures climbed 5.6 percent, the biggest one-day gain since Feb. 19. The Energy Information Administration said stockpiles grew by 107 billion cubic feet to 1.606 trillion in the seven days ended June 6, the lowest level for the time of the year since 2003. Analyst estimates and a survey of Bloomberg users forecast a gain of 111 billion.
Gold jumped 1 percent, the most in five weeks, and silver surged 1.9 percent, the biggest gain in a month.
Platinum tumbled 2.7 percent and palladium fell 4.7 percent, the most in 11 months. Yesterday, palladium reached $864.60, the highest level since February 2001.
The world's three largest platinum companies and the biggest union at their South African mines agreed on a wage deal that the labor organization will take to its members in a bid to end a 20-week strike. South Africa is the biggest producer of platinum and second-biggest for palladium.
Emerging Markets
The MSCI Emerging Markets Index slipped 0.1 percent for the first back-to-back decline in two weeks.
The Hang Seng China Enterprises Index of mainland shares listed in Hong Kong slid 0.7 percent. The Shanghai Composite Index fell 0.2 percent. China releases economic data including industrial production tomorrow.
Turkey's benchmark stock gauge climbed 1 percent after a report that Islamist militants will release hostages from its Mosul consulate in Iraq. Turkish diplomats, who were taken hostage yesterday, will be returned to Turkey, Anka news agency reported, citing a commander from ISIL, one of the militant groups.
The New Zealand dollar advanced against all 16 major peers after the Reserve Bank of New Zealand raised interest rates.
Before it's here, it's on the Bloomberg Terminal.
LEARN MORE