What Every Startup-Friendly City Needs (Hint: It's Not Google Buses)
By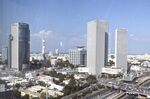 The Google bus has become a symbol of the dual-class system forming between San Francisco's tech elite and everyone else. Just this week, venture capitalists Chamath Palihapitiya and Ron Conway got into a fiery debate at Bloomberg's Next Big Thing Summit over whether Silicon Valley and City Hall have been complacent in the growing income inequality.
This is the kind of problem most cities would kill for. Dozens of mayors around the world are trying to figure out how to attract tech companies and deliver a surge to their economies. One of the few places that has pulled this off is Tel Aviv.
To figure out how an Israeli beach-side city achieved this and what others might be able to learn from its journey, we assembled a council of three experts: Caroline Haynes, a director at consulting firm KPMG, specializing in the future of cities; Hila Oren, who runs an administration dedicated to elevating Tel Aviv's global status; and Zack Weisfeld, a serial Israeli entrepreneur who's now a senior director at Microsoft Ventures.
During a round-table discussion at Bloomberg's Tel Aviv office, they discussed the ingredients for creating a startup ecosystem. The interview has been edited and condensed.
What does a city need in order to become a startup ecosystem?
Haynes: It is probably possible for any city with the right policies, the right will and the right motivation, even if it's got no startups today or infrastructure, to utterly transform.
Oren: Each city has to make its own secret recipe. It isn't a copy-paste. But it is possible with the right ingredients and the right amount of time. Each city will take its own time to reach a successful entrepreneur ecosystem. Cities need to give a good reason to the creative class to really want to live there — like allowing them to feel safe to walk back to their apartment at 2 a.m. You need to give infrastructure like free Wi-Fi. We believe that today, free Wi-Fi is just like electricity and water.
What's the key ingredient?
Weisfeld: There are key ingredients that if they aren't there, then whatever you do regarding the Wi-Fi and police and bars, isn't going to cut it. Talent feeders are super critical. And there needs to be an exit route — IPO markets and a way to go public — and successful entrepreneurs, people to look up to.
Oren: One of the important roles of the city is to take down the cost of living.
Cheap is good. But investors and talent builders are even better, right?
Weisfeld: Let's look at the cities that have the most successful startup epicenters: San Francsico, not exactly cheap; Tel Aviv, not exactly cheap; London, not cheap. Cheap apartments are really great, and cities should do that. But if a startup can't get funding, it is a tough world out there.
Haynes: If there is a good university, even better, because then professors get involved. The money follows. It isn't the other way around. The angels then go into the city and say, "We have this cluster of very bright young people who have new ideas." That drives up property prices a little bit — not like London — and that, in turn, helps with tax receipts so the city can start investing. It becomes this virtuous circle.
Have there been cities that have tried and failed?
Haynes: There have been cities that weren't successful even though in terms of the ingredients, they did try to put them there. Take Sheffield in the U.K. The city tried to put a lot of support behind a tech ecosystem. They got a couple of funds and some entrepreneurs and angels, and the universities have tried to support the academic disciplines that would support this area. Is it a big, successful startup city? No. Although, it's not to say it won't be. The magic ingredient is quality of life.
Oren: It is not enough to give tax reduction, lower costs, etc. You have to make sure, as a city, to platform all the rest of the fun things: networking events throughout town, the free Wi-Fi, all the little things that make the difference for the single entrepreneur.