Taper Tantrum Ends as Emerging Bonds Top World: Chart of the Day
Zahra Hankir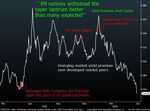 Concern that reductions in Federal Reserve stimulus will undermine emerging markets has evaporated as historically low yields in developed countries lured investors to riskier assets.
The CHART OF THE DAY shows the premium investors demand to own developing-nation bonds over their more advanced peers fell to 252 basis points on June 9, the least in more than 16 months. The spread was at 271 basis points on May 21, 2013, the day before then-Federal Reserve Chairman Ben S Bernanke said the central bank was considering cutting its bond-purchases program, and soared to a 2014 high of 365 basis points in February.
Increases in emerging-market yields outpaced those on Treasuries and German bunds in the months before tapering began in December. U.S. 10-year rates fell 40 basis points this year, even as the Fed reduced stimulus by $10 billion a month at each of its three meetings in 2014. The decline in developing-nation yields accelerated after European Central Bank President Mario Draghi said in February the bank may act to counter deflation.
"EM nations withstood the 'taper tantrum' better than many expected," Emad Mostaque, a strategist at Noah Capital Markets in London, said by e-mail on June 6. "Fears of an EM collapse were too high at the start of this year," while lower-than-predicted rates on Treasuries and bunds boosted the allure of EM assets, he said.
Buyers put $273.8 million into the biggest exchange-traded fund focused on developing-nation debt on June 3, its largest single-day inflow ever, according to data compiled by Bloomberg. Economic growth in emerging markets will accelerate to 4.9 percent this year from 4.7 percent in 2013, according to International Monetary Fund forecasts.
Before it's here, it's on the Bloomberg Terminal.
LEARN MORE