China's State Enterprises Told to Stop Investing in Vietnam
By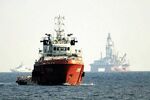 It's one more sign of how far China has to go before it starts treating its state enterprises more like normal commercial businesses, as its leaders pledged last November. Government-owned companies have been told to freeze temporarily any plans for new business in Vietnam, reports the South China Morning Poston June 9.
The government has temporarily stopped Chinese state-owned companies from bidding for fresh contracts in Vietnam," the Hong Kong-based paper reported, citing several unnamed sources. "This is a sign that China is playing the economic card. How effective will it be? We will have to wait and see," said Xu Liping, an expert on Southeast Asian relations at the Chinese Academy of Social Sciences.
Tensions are growing between the two countries following China's mooring of an oil rig in a disputed part of the South China Sea, a little more than 200 kilometers from Vietnam's central coast. China's southern neighbor has released a video showing a Chinese boat ramming and sinking one of its own vessels.
China, for its part, issued a statement through its foreign ministry on June 8, saying Vietnam boats had rammed its ships more than 1,400 times and was using "frogmen and other underwater agents" to interfere with its operations. "Immediately stop all forms of disruptions of the Chinese operation and withdraw all vessels and personnel from the site, so as to ease the tension and restore tranquility at sea," the statement read.
The order to state businesses to stop investing apparently came through a phone call from China's commerce ministry, the Post reported, adding that a person working in the ministry's bidding permit office confirmed the suspension. While China has been Vietnam's biggest trading partner for the past decade, it only ranked only 11th in foreign direct investment, according to Vietnam's general statistics office. Most of China's 113 companies registered in Vietnam do engineering, including in the power and chemical industries, according to a business association that tracks Chinese investment, the newspaper said.
"The market must play a decisive role" and China "must actively and steadily push forward the breadth and depth of market-oriented reforms," China's leaders solemnly proclaimed in a 60-point reform plan, released at last November's Third Plenum. Part of that was supposed to be making state enterprises more market-oriented. That goal is proving difficult.
"The challenges to commercializing SOEs stem from the government's reliance on SOE's balance sheets and resources to perform many strategic and policy-oriented functions," notes Fitch Ratings in "China State-Owned Enterprises: On a Bumpy Path Towards Market Reform," a June 9 report. Those include "undertaking outbound investments to facilitate diplomatic relationships," the report notes. It looks as though state enterprises have a role to play when overseas relations are going sour too.
Before it's here, it's on the Bloomberg Terminal.
LEARN MORE