Hedge Funds Retreat From Record Crude Wagers on Supplies
Moming Zhou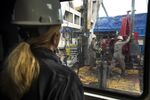 Speculators cut bullish bets on U.S. crude oil from a record as inventories were close to a seasonal high following the Memorial Day weekend.
Hedge funds reduced net-long positions in benchmark West Texas Intermediate by 1.5 percent in the week ended June 3, the U.S. Commodity Futures Trading Commission said. Long positions slid 1.1 percent and shorts jumped 5.3 percent.
Prices dropped to a two-week low after the May 26 U.S. holiday, the traditional start of the vacation season, as gasoline consumption fell from the highest level in almost three years. While total U.S. crude inventories gained 8.8 percent this year, bullish bets had risen to a record as the supply held at Cushing, Oklahoma, the delivery point for WTI, dropped to a five-year low as oil moved to the Gulf Coast.
"The fact that you still have near record-high crude inventories has people pulling back," Michael Lynch, president of Strategic Energy & Economic Research in Winchester, Massachusetts, said June 6 by phone. "The low Cushing numbers get people's attention, but in the long run you've got to wonder about the overall supplies."
WTI futures dropped $1.45 to $102.66 a barrel on the New York Mercantile Exchange in the period covered by the CFTC report. They settled at $102.47 on June 2, the lowest close since May 20. The contract rose $1.75, or 1.7 percent, to $104.41 today, the highest close since March 3 and the biggest gain since April 8.
Crude Inventories
Crude stockpiles were at 399.4 million on April 25, the most since the Energy Information Administration began publishing weekly data in 1982. They pulled back to 389.5 million by May 30 as imports contracted.
A combination of horizontal drilling and hydraulic fracturing, or fracking, has unlocked oil trapped in shale formations in North America. Output reached 8.47 million barrels a day in the week ended May 23, the most since 1986, and stood at 8.38 million on May 30, according to the EIA.
"We had a big drop in imports and that's why crude stocks went down," said Phil Flynn, senior market analyst at the Price Futures Group in Chicago. "Demand is still not that strong."
Gasoline consumption slid 2.2 percent to 9.1 million barrels a day in the week ended May 30, according to the EIA. That's down from 9.31 million the previous week, the most since June 17, 2011. Total fuel demand decreased by 977,000 barrels, the biggest drop since December.
Cushing Stocks
Oil bets had surged 30 percent this year as the southern leg of the Keystone XL pipeline began moving oil to Gulf refineries from Cushing in January. Stockpiles dropped to 21.4 million barrels in the week ended May 30, the lowest since November 2008. Inventories in the Gulf were 207.1 million on May 30, a record for this time of year in EIA going back to 1990.
"All you are doing is moving oil out of Cushing to the Gulf," said Bill O'Grady, chief market strategist at Confluence Investment Management in St. Louis, which oversees $1.4 billion. "You still have a very sluggish economy and that's going to weigh on demand."
Regular gasoline at the pump may fall through the end of June as demand slows, according to AAA in Heathrow, Florida, the largest U.S. motoring company. Retail gasoline prices averaged $3.654 a gallon on June 7, down from $3.669 on May 31. Prices slid 0.1 cent to $3.653 yesterday.
Gasoline Bets
Bullish bets on gasoline climbed 209 to 60,339 futures and options in the week ended June 3. Futures fell 4.65 cents, or 1.6 percent, to $2.9487 a gallon on Nymex in the reporting period. Prices gained 4.58 cents, or 1.6 percent, to settle at $2.9848 today, the biggest gain since April 8.
In other markets, money managers' bullish wagers on ultra low sulfur diesel slid 8,428 to 19,229. The fuel declined 7.41 cents to $2.8658 a gallon in the CFTC week. Futures rose 2 cents, or 0.7 percent, to end today's session at $2.8912.
Net longs on U.S. natural gas dropped 18,148 to 308,562. The measure includes an index of four contracts adjusted to futures equivalents: Nymex natural gas futures, Nymex Henry Hub Swap Futures, Nymex ClearPort Henry Hub Penultimate Swaps and the ICE Future
Nymex natural gas advanced 12.4 cents to $4.629 per million British thermal units during the report week. Futures slipped 6.5 cents, or 1.4 percent, to close at $4.645 today.
Hedge funds and other money managers cut net-long positions in WTI by 5,064 to 343,005 futures and options. Long positions fell 3,975 and shorts grew 1,089.
"The market is taking a step back," John Kilduff, a partner at Again Capital LLC, a New York-based hedge fund that focuses on energy, said by phone on June 6. "The overall inventories are putting downward pressure on oil and demand's been a bit lackluster."
Before it's here, it's on the Bloomberg Terminal.
LEARN MORE