Q&A: Travis Kalanick on Uber's New $17 Billion Valuation
By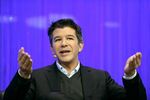 Uber Technologies, the company that allows people to order taxis and private town cars via a smartphone app, has just raised $1.2 billion in a fundraising round that values the four-year-old startup at an astounding $17 billion.
Investors include Fidelity Investments, Wellington Management, Summit Partners, BlackRock, and the venture capital firm Kleiner Perkins Caufield & Byers, in addition to previous Uber investors such as Menlo Ventures and Google's investment arm, Google Ventures.
Uber's new valuation is a record for technology startups in a direct investment round, according to my story with Serena Saitto over at Bloomberg News. The round positions the company at the front of a pack of hot Internet and mobile phone startups, such as Dropbox, Airbnb, and the Chinese smartphone maker Xiaomi, which all tout valuations in the neighborhood of $10 billion.
I spoke with Travis Kalanick, Uber's co-founder and chief executive officer, on the eve of his fundraising announcement. Some excerpts:
Bloomberg Businessweek: How are you going to use the capital?
Travis Kalanick: We just turned four years old this week. The growth is remarkable. We literally launched operations this week in June of 2010 in San Francisco. We are now in 128 cities, probably closing in on 40 countries if we are not there already. And so this is about capitalizing for the opportunities that we see ahead of ourselves. This is about continuing to grow in the cities we are in. Our vision is to offer a way for people to get around cities without having to drive a car. It's ground transportation as a service.
To give you an example, ground transportation just in the San Francisco Bay Area is a $22 billion spend a year. That's just one little city. When you look at the global opportunity, it's pretty massive. If you can make it economical for people to get out of their cars, or sell their cars, and turn transportation into a service, it's a pretty big deal.
Will you use this capital to branch out into offering logistics services, like package delivery?
The business as it is, the current growth, that is what was funded. The logistics, or moving things as well as people, is icing on the cake. We are doing experiments right now. It's too early to know how it all works out. The core business itself was what was pitched [to investors].
How would you explain this valuation to a skeptical outsider? You are more highly valued now than Hertz Global Holdings, for example.
It comes down to our revenue numbers, the growth of those numbers and our business model itself. … The [numbers] are incredibly compelling. We are a private company. If you were to compare the multiples of public companies, Uber is at or below those multiples, on any front. So I think it's kind of a no-brainer for the folks getting involved. When you look at a business and you are like, "wow, in six months they are going to be twice the size"—and we have a history of doing that—it's a pretty interesting opportunity.
What impact has your main rival, Lyft, had on your margins in cities where you compete head to head?
Uber has its normal margin of 20 percent. We have that margin in all cities around the world. Lyft is taking zero percent margins right now, trying to compete [with us]. I think we are just trying to build the business for the long run and feel pretty good about it.
Would you consider buying Lyft? Are you in acquisition mode?
We have never bought a company before. We like a self-sustaining approach to innovation and growth. Does that mean we will never acquire something? No. It's just not our go-to [strategy].
In April you announced Uber Rush, a package delivery service in Manhattan. Are you considering expanding it?
That is going really well. It's super-young, only a month or two old. It's almost like I'm talking about an infant. But the growth of Uber Rush in New York is far greater than what the original Uber service was in San Francisco at the same age. There are still some things we want to do on product and operations. We want to get that playbook down. We did a year of Uber in San Francisco before we went to a second city. You get those processes down, then you really get started.
You have some new venture capital firms in this fundraising round. Did they feel like Uber was a company they had missed out on earlier, and wanted to get in, even at a later round and a higher price?
I think a lot of folks feel like Uber was a company they missed out on. Sequoia passed on us three times. Yuri [Milner, from Russian VC firm DST] passed on us three times.
I saw an article recently that suggested the yellow cab industry in San Francisco may collapse entirely by the end of next year. Is there room for competition?
The only thing I can say is that we are 25 percent cheaper than a taxi today in San Francisco. You can make the argument we will end up at 40 to 45 or maybe 50 percent cheaper. It's a higher-quality ride and it's less expensive. But some people may still want to take a taxi.
What does this fundraising round mean for you personally?
I have never sold a share of Uber, and I didn't do so in this round either. So it doesn't mean much.