U.S. Companies Quietly Bump Up Trade With Iran
EU nations obeying Washington's sanctions are upset over U.S. deals
By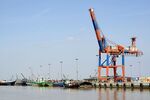 In Europe, complaints about curbs on trade with Iran are growing louder as officials point out that the U.S., the author and enforcer of tough sanctions, is itself doing more business with the Islamic Republic. U.S. shipments to Iran have climbed 35 percent since 2011, compared with a 77 percent drop for the European Union, according to data compiled by Bloomberg.
EU business still dwarfs that of the U.S. by more than 20 to 1 and includes industrial goods Americans haven't sold to Iran for decades. But some EU officials say it's unfair that U.S. trade is rising as European companies are making sacrifices. "It seems the U.S. seeks a competitive advantage," Marietje Schaake, a Dutch member of the European Parliament who serves on the Foreign Affairs and International Trade committees, wrote in response to questions. The Obama administration denies that it's trying to give U.S. companies a leg up.
Divisions among the allies would be especially problematic now, as the U.S. and Europe become partners in new sanctions to punish Vladimir Putin for his Crimea land grab. Perceived inequities over Iran could make it harder to collaborate against Russia.
Once one of Iran's main commercial partners, the U.S. has largely shut itself out of the country's $400 billion economy since the 1979 Islamic revolution. U.S. trade with Iran consists largely of humanitarian products including food, pharmaceuticals, and medical supplies. Last year's U.S. rice exports to the country were the highest in a decade, according to U.S. Census figures. Some of the main European exports to Iran are car parts and industrial goods.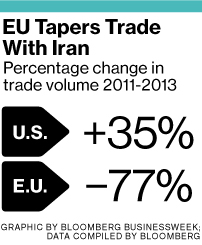 In recent years the U.S. has pushed allies to go along with sanctions in an effort to exert pressure on Iran to halt its nuclear program. Jack Straw, the U.K.'s former foreign secretary and current co-chair of a parliamentary group on Iran, said in May that there's a double standard which could "split the international community." French officials have criticized the targeting of BNP Paribas, the Paris-based lender that faces a U.S. penalty of as much as $10 billion for alleged dealings with Iran and other sanctioned nations. "Washington has the annoying habit of trying to apply its laws outside its jurisdiction and use its strength for commercial ends," says French lawmaker Jacques Myard.
U.S. trade with Iran rose to $315 million last year, from $234 million in 2011. During the same period, European trade fell to €6 billion ($8.2 billion) from €28 billion. At the end of last year, U.S. companies traded $1 with Iran for every $26 Europe did, down from $155 two years earlier. The shift happened as Europe followed the U.S. in ramping up sanctions in 2011 and 2012.
European trade with Iran will probably see a bounce in the second quarter because of an interim deal reached in Geneva in November that lifted some sanctions in return for nuclear concessions, said a senior Obama administration official, who asked not to be named because of the issue's sensitivity.
One European complaint is that U.S. companies can get waivers that aren't available to non-American businesses. The Treasury grants licenses to trade with Iran in addition to so-called letters of comfort absolving banks from litigation risks. "If you're an American trader with an American bank, you don't run into trouble; but if you're a European banker, you do," Straw said at a May 20 briefing in Vienna.
"Over the years, European bankers would receive calls from U.S. officials on a Friday afternoon, asking why they were helping to promote trade with Iran," says Heinrich Matthee of the Institute for Near East and Gulf Military Analysis in Brussels, who advises European companies. "That tends to ruin the weekend." As a result, European companies that want to trade with Iran have trouble finding banks to finance them, according to Steffen Behm, head of the Iran desk at the German chamber of commerce.
The U.S. official said it's not feasible to provide waivers covering the thousands of transactions with Iran that occur every year and that the U.S. has assured Iran's trading partners they won't be penalized for selling humanitarian goods. Even so, the escalating European perception that the U.S. is saying one thing and doing another "will inevitably create tension," cautions Suzanne Maloney, a senior fellow at the Brookings Institution in Washington and a former American diplomat. "We're just lucky to this point that tension hasn't escalated."
How long that luck will hold may depend on the outcome of the ongoing nuclear talks with Iran in Vienna. Diplomats have set a mid-July target for a final accord that, by lifting trade restrictions on Tehran, would defuse the issue. Without one, said the U.K.'s Straw, "the pressure to dilute sanctions will be very strong."
BOTTOM LINE -
The bottom line: Some EU officials complain the U.S. is pushing sanctions against Iran while increasing its exports to the Islamic Republic.
Before it's here, it's on the Bloomberg Terminal.
LEARN MORE