As Mining Profits Fade, So Do Luxuries
Mining company cutbacks have reached the break room
by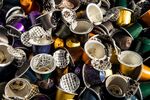 Kinross Gold workers in Mauritania, in West Africa, are seeing the impact of China's cooling demand for minerals in an unlikely place: their break rooms. To cut costs, the Toronto-based miner's African employees are losing their posh Nespresso coffee machines, the ones advertised by George Clooney. That comes on the heels of Rio Tinto cutting back on the number of meat pies for workers at its Australian mines.
Prices for raw materials are falling after increasing almost fourfold in a decade, sending mining companies scurrying for cost savings. After cutting billions of dollars on the big stuff, they're scratching for savings wherever they can find them, from renegotiating rubber contracts for tires to adopting driverless trucks and trains. Free food for employees isn't exempt, either. "The focus absolutely has to be on cost-cutting and to cut out the excesses of the past five years," says Rob Clifford, a Deutsche Bank analyst in London. "And you need to focus on the small stuff. Every pie counts." That's why Rio Tinto, with more than $50 billion in revenue last year, worked hard to save about $60,000 by reducing its servings of hot meat pies and sausage rolls, part of a broad effort that stripped $2.3 billion from costs last year.
Kinross's farewell to Nestlé's espresso capsules are part of a push to lower costs after a one-third fall in gold's value. The miner is moving to "percolator coffee machines and ground coffee to replace the more expensive single-serve capsules," according to an April 2 e-mail Kinross sent to staff at its Tasiast mine in Mauritania. The e-mail says the switch will save $80,000 a year.
Kinross spokeswoman Andrea Mandel-Campbell declined to comment directly on the e-mail. "We've been focused on reducing costs and increasing efficiencies across our operations for some time now," she says. "We're pretty proud of some very tangible results that we have been seeing lately."
To be sure, most cuts involve miners' core operations. BHP Billiton, the world's biggest mining company, trimmed about $3.9 billion in costs through such changes as refueling trucks on site in mining pits, to avoid wear and tear on expensive tires from driving to often faraway fuel stations.
But Australian nickel producer Western Areas, whose workers haven't had a raise in three years as prices of the metal tumbled, says even tiny menu expenses have to remain under the microscope to contain its losses. "Every cent we save goes straight through to the bottom line," Managing Director Dan Lougher says. "Cost reductions are part of our culture. When prices of bananas go up, we take them off the menu. They are on the menu at the moment."
Before it's here, it's on the Bloomberg Terminal.
LEARN MORE