India Fights to Keep the Lights On
Theft and inefficiency are causing blackouts and lost revenue
by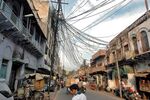 Inspectors from billionaire Anil Ambani 's electricity provider, BSES Rajdhani Power , entered a village near New Delhi on May 21, hunting for meters that were tampered with to show artificially low power consumption. Residents stoned and beat them with iron rods, a police report shows. Inspectors visiting a nearby village in 2012 were bound and urinated on, say two company officials who asked not to be identified, because the information isn't public.
The attacks highlight how hard it is for India's power industry to stem electricity theft, which is contributing to blackouts and costs $17 billion in lost revenue annually, according to calculations by Bloomberg. It's a big challenge for new Prime Minister Narendra Modi , who has pledged to boost energy output. Billing rates "are too low, and theft is too high. If you look at the power losses, 80 percent is theft," says Ratul Puri, chairman of Hindustan Powerprojects , a privately held power plant operator.
The government requires electricity distributors to sell power to consumers below cost. That forces them to borrow heavily to pay power-generation companies. Distributors that sell to consumers in Delhi state, including BSES, owed 141 billion rupees ($2.4 billion) to state-run power generators as of April 30, India's Ministry of Power says. To help electricity retailers, the government has come up with a plan that shifts some of this debt to regional governments and eases payment terms on the rest.
Stealing electricity has gotten easier since 2009, when a federal police team, the Central Industrial Security Force , stopped accompanying inspectors on raids, the two executives at BSES say. A CISF spokesman declined to comment, but BSES says in a statement that its "teams often come under attack from the unscrupulous elements," adding that regular police now go with inspectors.
Modi's government wants to use renewable power, especially in remote areas, to enable every home in India to run at least one light bulb by 2019, says Narendra Taneja , chief of the energy division at the ruling Bharatiya Janata Party. Former Prime Minister Manmohan Singh 's government missed a 2012 target to provide electricity to all households: Some 300 million Indians still live without power. Modi, as chief minister of Gujarat state, encouraged solar energy by guaranteeing high prices for power produced by builders of large-scale solar plants. He clamped down on theft with better meters and policing, and cut subsidies to farmers.
India's grid loses more than a quarter of the power it carries because of poor wiring and theft, says the Central Electricity Authority. Comparable losses are 5 percent in Australia, 6 percent in China and the U.S., and 16 percent in Brazil, according to the World Bank. To cut down on theft, BSES started raiding homes and factories in May. The company says it has reported more than 750 cases to the police. BSES's raids will continue for three months.
Before it's here, it's on the Bloomberg Terminal.
LEARN MORE