How Major League Baseball Helps ESPN Stream World Cup Soccer
How Major League Baseball helps ESPN put all 64 games on digital devices
by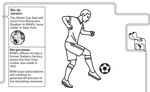 The first kick of the 2014 FIFA World Cup is scheduled for 5 p.m. local time on June 12 in São Paulo, in a match between the host nation and Croatia. Seconds later it will be available on smartphones, tablets, and laptops in the U.S. The same will be true for every pass, tackle, and goal of the monthlong tournament. ESPN, which has the English-language rights to the World Cup in the U.S., is taking a blanket approach. For the first time, the network is not only showing all 64 matches live on EPSN, ESPN2, or ABC, but is also live streaming them via its Watch ABC and WatchESPN apps (for authenticated telecom subscribers) and via ESPN3, its 24-hour broadband network.
ESPN3 is the network's bet on the future. The company charges Internet service providers a per-subscriber fee for the right to carry its streaming media, just as it charges cable carriers for its TV channels, and the programming is then free to users of those ISPs. About 92 million households already have access to ESPN3. (Time Warner restricts ESPN3 to customers with a cable package that includes ESPN.) While WatchESPN just reproduces what appears on TV, ESPN3 carries online-only events from the network's surplus of programming—college football and baseball, professional tennis, cricket, even spelling bees. It will carry all 64 World Cup matches and augment coverage with extras including alternate camera angles and audio in Korean and Portuguese. And to get all this done, ESPN will rely on a New York tech company owned by Major League Baseball.
Four years ago, ESPN hired Major League Baseball Advanced Media, commonly known as BAM, to do the background work for its ESPN3 live streams. Over the previous decade, BAM had made itself an industry leader by figuring out how to stream 2,430 baseball games every season. "BAM was really ahead of the market in what they were doing with MLB.TV," says Damon Phillips, head of ESPN's online television ventures. "They had a full-time plant dedicated to digital, just to serving this kind of content."
In 2010, CBS and ESPN quarreled publicly over who held the record audience for a live stream. CBS said it was a March Madness basketball game between Brigham Young and Florida; ESPN said a World Cup match between the U.S. and Algeria. Both had audiences of about 1.1 million. BAM managed the streaming for both. This year, says Chief Executive Officer and President Bob Bowman, the company expects to handle about 30,000 live events for MLB and more than 15 outside clients, including CBS; World Wrestling Entertainment; Glenn Beck's subscription network, TheBlaze; and ESPN3.
MLB Commissioner Allan "Bud" Selig created BAM in 2000 to make websites for the league and its 30 teams. He was worried that big-market teams would gain an extra advantage through Web commerce and wanted a single entity to control the league's online presence and pool the revenue. BAM spent $77 million in funding from the teams before it turned a profit. By 2007 it had paid back that investment. BAM offered its first live webcast in 2002, an August baseball game between the Texas Rangers and the New York Yankees. "We were probably not very good at it," Bowman says.
They got better. At the end of this year every team should get a dividend of about $7 million to $8 million from BAM—enough for a good catcher. The company is headed toward $800 million in 2014 revenue, mostly from MLB.TV subscriptions, paid mobile apps, online ticket and merchandise sales, and advertising. Bowman says about $50 million comes from streaming services for outside clients.
The company sometimes struggles to keep up with surges in demand. Subscribers overwhelmed its servers earlier this year trying to sign up for the new WWE Network, as did customers trying to cash in on a free Domino's Pizza promotion when Josh Beckett of the Los Angeles Dodgers threw a no-hitter in May. Demand for this year's World Cup is likely to put its tech to the test again. BAM says it's ready.
Before it's here, it's on the Bloomberg Terminal.
LEARN MORE