Fixing What Really Ails Veterans' Care
The VA should tap into the resources of Medicare and civilian providers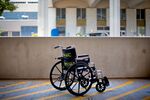 The departure of U.S. Department of Veterans Affairs Secretary Eric Shinseki may seem like a reasonable first step toward fixing the mess at the agency. The problems that cost Shinseki his job, however, are so severe—veterans waiting an average of 115 days for their first primary-care appointment at a facility in Phoenix and similar delays elsewhere—that a change at the top won't put things right.
What will? One approach, advocated by Senator John McCain (R-Ariz.) and others, is to give veterans "the right to choose where and when they get their medical care." House Speaker John Boehner (R-Ohio) has called for privatizing the VA, and House Veterans Affairs Chairman Jeff Miller wants the agency to pay for veterans to get private care if they wait more than 30 days for VA care. Veterans groups counter that the VA is uniquely suited to deal with trauma-related injuries, prosthetics, and mental health. They argue that the influx of new veterans following the wars in Iraq and Afghanistan means the agency's health-care services need more money.
The best way forward: Strengthen the VA's ability to do what it's good at and widen veterans' access to services that don't demand its expertise. The agency could avoid delays by paying for primary-care visits with private doctors when timely appointments aren't available at its own facilities. Veterans would continue to rely mostly on VA doctors for specialty care. Congress should ensure those specialists are available by providing more funds where they're needed.
The VA could save money by building a network of civilian health-care providers. Tricare, which provides health benefits to some retired military personnel, pays for outside care when appointments aren't quickly available at military facilities. And it controls costs by imposing maximum allowable charges through its network of outside providers. If the VA can't offer prompt care, the agency could pay for veterans to get access to Medicare's network of providers. The VA has let veterans down. To make amends, it should embrace new ideas for their care.
BOTTOM LINE -
To read Mervyn King on England's World Cup chances and Mark Buchanan on freaky health-care ideas, go to: Bloomberg.com/view.
Before it's here, it's on the Bloomberg Terminal.
LEARN MORE