Argentina Edges Back From the Debt Brink
Even a setback at the U.S. Supreme Court would not be disastrous
by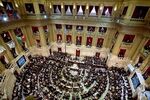 Nobody would argue that Argentina is in good financial condition. It has lost almost half its foreign reserves since the start of 2011. The country's credit is rated seven levels below investment grade by Moody's Investors Service and Standard & Poor's. Stagflation looms. President Cristina Fernández de Kirchner is clinging to the hope that the U.S. Supreme Court will agree on June 16 to hear Argentina's case against a group of bondholders that she calls "serial predators." If the justices say no, Argentina has repeatedly warned that it will be forced into default.
It might seem strange then to say that things are looking up for Argentina. They are, though—at least from a bondholder's point of view. The Fernández government has managed to stanch the shrinkage of foreign reserves—including U.S. dollars, gold, and other assets—by devaluing the peso 19 percent and raising interest rates. Export earnings from a record harvest helped, too. In late May, Argentina reached an agreement with a group of creditor nations that calls for it to pay almost $10 billion over five years to settle claims stretching back to the government's record $95 billion default in 2001. That followed an earlier deal to compensate Repsol, the Spanish energy company, for the nationalization of its Argentine unit, YPF, in 2012. After years of understating inflation, the government introduced a new benchmark in February. Investors have noticed: JPMorgan Chase's index of Argentine bonds has risen 56 percent since March 2013.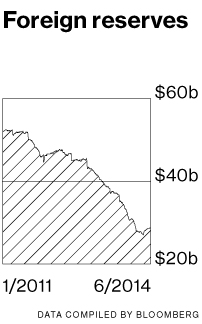 "I'm way more optimistic today than I was a year ago," says Karen Hooper, director of analysis for Latin America at Stratfor, a geopolitical intelligence firm. Hooper says the Fernández government has pivoted away from pure populism by recognizing the need to make sure export-oriented manufacturers have access to foreign currency and energy supplies.
Argentina won't be able to borrow affordably in the international bond market until it reaches a deal with a group of holdout creditors including billionaire Paul Singer's Elliott Management. About 93 percent of creditors accepted losses of 70¢ on the dollar in the country's 2005 and 2010 debt restructurings. Elliott Management and others sued for better terms. Two years ago the hedge fund tried to seize an Argentine naval vessel docked in Ghana to enforce court judgments.
June 16 is the earliest date for the U.S. Supreme Court to decide whether to review lower U.S. court orders that say Argentina can't start making payments on the restructured bonds unless it pays the holdouts in full. While the lawsuit under consideration covers $1.3 billion in debt, Argentina says the cost could climb to $15 billion if all the holdouts sue for the same terms. Court watchers say it's far from clear that the Supreme Court will agree to hear Argentina's case.
The country has a productive agricultural sector and big untapped energy reserves, says Gabriel Torres, an analyst at Moody's. Its debt in dollars owed to foreign creditors is manageable at less than 10 percent of gross domestic product, he says. And he adds that even Elliott Management has gotten more flexible lately, saying it's open to accepting bonds as partial payment, not just cash. So even if Argentina doesn't catch a break from America's high court, all might not be lost.
Before it's here, it's on the Bloomberg Terminal.
LEARN MORE