Flappy Bird Creator Starts Chasing Down Clones
By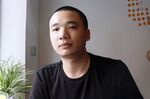 Flappy Bird is perhaps the most copied game of the year, and the Vietnamese creator behind the defunct mobile app is finally going after the clones.
Apple has been contacting developers of Flappy Bird lookalikes on behalf of .Gears Studio, which made the original game, saying they may be infringing on the creator's copyright. One such e-mail sent today that was obtained by Bloomberg was received by the developer of a similar-looking game called Duck Run.
"This game violated our copyrights for the character of our famous game Flappy Bird," .Gears wrote in the complaint. Dong Nguyen and his Hanoi, Vietnam-based company didn't respond to multiple requests for comment.
Todd Moore, who developed Duck Run, defended his game, saying it doesn't infringe on .Gears's intellectual property. Duck Run has been among the top 500 most-downloaded apps in 20 countries since it came out in February, according to research firm App Annie. Moore is also the creator of White Noise, a popular app to help users sleep.
"It's a duck," Moore says. "I'm not taking it down. In no way does my game infringe on anything that was in Flappy Bird when it was available."
Nguyen, the 20-something creator of Flappy Bird, told Rolling Stone last month that he planned to take steps against clones, without elaborating. Before Nguyen removed Flappy Bird in February, millions of people were tapping their phones to guide a pixelated bird through green pipes, making it the most popular app in 137 countries, according to App Annie.
After Nguyen removed Flappy Bird, dozens of copycats proliferated in an attempt to ride the hit game's coattails. Flappy Bird's simplicity and addictivness turned it into a global sensation, not unlike Candy Crush Saga or another avian diversion, Angry Birds. However, once gamers couldn't have at it anymore and started looking for their next fix, the formula proved extremely easy to copy.
On Monday, within hours after Apple revealed an entirely new programming language it had created for iPhone apps called Swift, a developer used it to write a Flappy Bird clone. Nate Murray, the programmer behind the FlappySwift project, says Flappy Bird is a great model for developers learning a new language because it's easy to copy.
"Flappy Bird has a mystical addictiveness, and from a technical perspective, it's surprisingly simple," Murray says.