The Conflict Over Conflict-Free Minerals
Intel, Apple, and HP struggle to comply with controversial SEC rules
By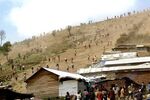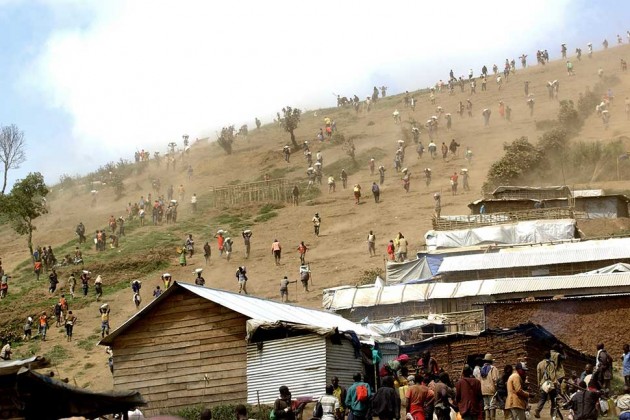 Like most advanced chips these days, Intel's contain tantalum, gold, tin, and tungsten—elements that can be mined on the cheap in war-torn parts of the Democratic Republic of Congo. Carolyn Duran's job is to make sure the company doesn't use so-called conflict minerals. For the past five years, Duran, Intel's supply-chain director, has paid for independent audits and led the company's own audits of metal producers to determine if their ore comes from mines controlled by militias in the DRC, where a decades-long civil war has claimed millions of lives. It's as tough as it sounds, she says: "Every single member of Intel's conflict team has felt, at some point, that we've hit an insurmountable task."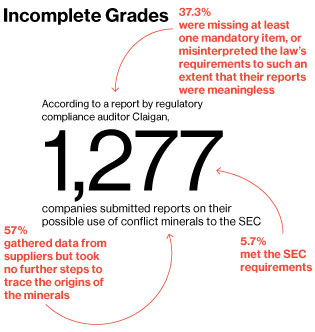 By June 2, U.S. companies with products that may contain conflict minerals were supposed to send reports to the Securities and Exchange Commission detailing their efforts to discover whether their metals originated in the DRC. The rule, designed to starve militias in the central African country of revenue by discouraging companies from dealing with them, dates to 2010's Dodd-Frank Act. In April a federal appellate court struck down the part of the rule that would have compelled companies to disclose the possible use of DRC-sourced conflict minerals on their websites. But businesses must still prove to the SEC that they've performed their due diligence, either by auditing their suppliers or hiring an accredited third party to do so. Besides Intel, Apple and Hewlett-Packard, few companies put in the work before the deadline to trace their components from mine to factory.
Corporate lobbying groups including the U.S. Chamber of Commerce, the Business Roundtable, and the National Association of Manufacturers are arguing in court that the disclosure requirements should be eliminated completely. In addition to free-speech complaints, they say the rule imposes "staggering costs" because there's no uniform system in place to audit or certify conflict-free suppliers. The manufacturers' association estimates that about 22,000 companies affected by the law would have to pay as much as $16 billion to perform their due diligence. Claigan, which evaluates regulatory compliance for companies, says the total number of affected companies is under 2,000 and the price tag no more than $180 million, if that.
There are roughly 300 to 600 companies around the world that turn ore into metal, according to the Conflict-Free Sourcing Initiative, an industry group that lists about 100 smelters certified as free of conflict minerals. Since 2009, when the Dodd-Frank bill was in committee, Duran's four-person team has visited 86 smelters in 21 countries, asking for records that can prove their ore isn't sourced from mines controlled by the DRC's armed gangs. Intel says it was able to confirm that its suppliers are conflict-free. The company wouldn't say how much it cost to make sure.
Duran spent about a decade as an engineer in Intel's research and development department before Brian Krzanich, then a vice president and now the company's chief executive officer, appointed her to head the company's conflict-mineral research team. At smelters from Bolivia to China, she says, Intel researchers have been refused entry and told to "stop bugging us" by their suppliers. They started to see results about two years ago, helped by checks that Intel, with contributions from HP and the GE Foundation, wrote to defray the expense of hiring independent auditors for smelters that said they couldn't afford one.
Jay Celorie, who heads HP's conflict-mineral compliance program, says turning up in person is the best way to get records from suppliers. "A smelter's decision to participate is primarily based on their customers' demands," he says. Apple says only four of its 79 smelters haven't received conflict-free certification, and that it's threatening to end their contracts unless they do. Chua Cheong Yong, CEO of Malaysia Smelting in Kuala Lumpur, says the fear of a boycott is the biggest reason for suppliers to get certified. Malaysia Smelting, the world's third-largest producer of tin, pays for annual third-party audits with funding from Intel. "If consumers stop buying materials from the Congo, then people like us have to disengage because we cannot put ourselves in a position where people won't buy from us," Chua says.
Some smelters say they simply don't have documentation from their ore sources, having completed deals with a handshake. But human-rights advocates say that audits can go a long way toward cutting off the flow of cash from DRC mines to local strongmen, and that U.S. companies shouldn't count on the rest of the Dodd-Frank rule being overturned. Says Sasha Lezhnev, an analyst for the Enough Project, a nonprofit focused on ending genocide: "It's very important for that legislation to stick."