Currency Volatility Rises to 2-Week High Before ECB Meets
Rachel Evans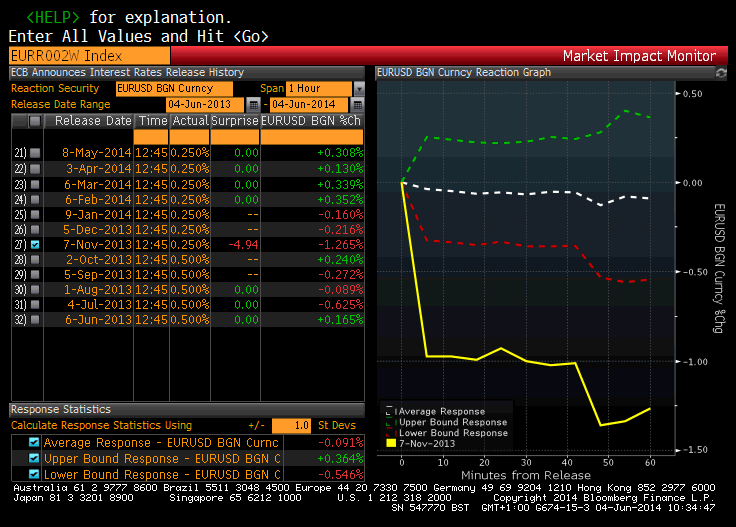 A gauge of currency volatility among Group of Seven nations rose to the highest in two weeks before the European Central Bank meets tomorrow amid speculation on what policy makers may do to spur the region's sluggish economy.
The euro fell versus most major peers. The dollar stayed higher against the euro after a Federal Reserve report said the U.S. economy expanded at a modest to moderate pace last month. The greenback rose versus the yen after an index of U.S. service industries increased more than forecast in May. Canada's currency fell as the central bank said the nation still faces risks from low inflation.
"There's so much event risk associated with tomorrow's ECB," said Michael Woolfolk, a global-markets strategist at Bank of New York Mellon in New York. "We know that something's coming, we just don't know how large a package it's going to be and what that package is going to comprise. The growing expectation now is that this will be one of several steps over the course of the year."
JPMorgan Chase & Co.'s G-7 Volatility Index rose for a third day and reached 6.33 percent, the highest since May 21 as of 5 p.m. New York time. It fell on May 30 to 5.92 percent, the lowest since June 2007.
The euro weakened 0.2 percent to $1.3599. The dollar gained 0.2 percent to 102.75 yen and touched 102.80 yen, the highest level since May 2. The shared currency was little changed at 139.72 yen.
Price Swings
Implied volatility on one-day options on the euro-dollar exchange rate surged to as much as 17.5 percent, the highest since February, from 6.7 percent yesterday. Implied volatility, which traders use as an input to set options prices and signals expectations for the pace of currency swings, rose to 6.8 percent on one-month contracts, from 6.5 percent yesterday.
Canada's dollar dropped to a four-week low after the central bank left the benchmark interest rate at 1 percent and reiterated its outlook that future moves could be either up or down depending on economic data. It said low inflation and weak exports are hindering Canada's economy.
The currency depreciated 0.3 percent to $1.0940 per U.S. dollar. It touched $1.0955, the weakest since May 6.
Sweden's krona rose against all of its 16 major peers after data showed industrial production increased 3 percent in April, following a revised 3.6 percent decline the previous month. The currency gained 0.6 percent to 6.6427 per dollar.
Currency Measure
The krona lost 0.3 percent in the past month in a basket of 10 developed-nation currencies tracked by Bloomberg Correlation-Weighted Indexes. The dollar appreciated 1.2 percent, and the yen advanced 0.5 percent, while the euro dropped 1 percent.
Europe's shared currency has traded this week between $1.3588 and $1.3648 before the ECB meets tomorrow. It touched $1.3586 on May 29, the lowest since Feb. 13.
"Plenty of easing is now priced in," said Petr Krpata, a foreign-exchange strategist at ING Groep NV in London. "With the market clearly focusing on tomorrow's press conference, we wouldn't expect a major break out of the range today."
A Societe Generale SA survey found traders are betting the euro will fall against the dollar and are waiting to sell on rallies, Sebastien Galy, a senior currency strategist at the company in New York, said in an e-mail.
Draghi Bets
Two euro-area central-bank officials said ECB President Mario Draghi will probably signal tomorrow that any interest-rate cut this week won't be the last. He may reiterate his commitment to keeping borrowing costs at current or lower levels, they said, asking not to be identified because the talks aren't public.
Policy makers will cut the deposit rate to negative 0.1 percent from zero, according to economists in a Bloomberg survey. A negative rate would mean banks will be charged for parking excess cash with the ECB overnight.
Gross domestic product in the currency bloc increased 0.2 percent in the first quarter, down from a 0.3 percent gain in the previous three months, the European Union's statistics office in Luxembourg said today.
The dollar erased a drop against the yen after the Institute for Supply Management reported its non-manufacturing index increased to 56.3 in May from 55.2 a month earlier, the Tempe, Arizona-based group said today. Economists surveyed by Bloomberg forecast 55.5.
'Good Momentum'
"We're still running at a healthy clip in terms of the broader momentum," said Jeremy Stretch, head of currency strategy at Canadian Imperial Bank of Commerce in London. "The services ISM, which is the only primary indicator that we get on what is still evidently the largest and most important sector in the U.S. economy, showing such just good momentum just underlines the general bid for the U.S. dollar."
The greenback fell earlier versus the yen after a private report showed U.S. companies added fewer employees than forecast last month. Companies hired 179,000 more workers after adding a revised 215,000 the previous month, according to the ADP Research Institute. A Bloomberg survey forecast 210,000.
A government report due on June 6 will show employers added 215,000 nonfarm jobs last month, economists surveyed by Bloomberg forecast, versus an increase of 288,000 in April.
The Fed's Beige Book business survey said seven of its 12 districts saw "moderate" growth, with the rest characterized as "modest." The labor market "generally strengthened," the report said.
Before it's here, it's on the Bloomberg Terminal.
LEARN MORE