Stairway to Heaven Lawsuit Demands Jimmy Page's Cassette Tapes
By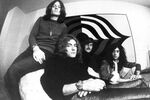 The lawsuit claiming that Stairway to Heaven was filched from an obscure song by the band Spirit has finally been filed—and it threatens to delve into the rarely heard, gestational moments of Led Zeppelin's crowning achievement.
Following through on a threat first reported by Bloomberg Businessweek, the trust for the late songwriter Randy California has sued the surviving members of Led Zeppelin and their record company for copyright infringement. The 40-page complaint, filed in the U.S. District Court for the Eastern District of Pennsylvania on May 31, is itself a tribute to Stairway's iconic status: Its section headings are in a typeface recognizable from Led Zeppelin album covers, and it cites as a cause for action the "Falsification of Rock N' Roll History."
Crucially, it demands that Zeppelin guitarist Jimmy Page preserve all the recordings that led up to Stairway's 1971 release. That includes both studio takes of the song and the earliest bits of the composition, which Page has said he played into a portable recorder in 1970 at a stone house in Wales. Whether that demand could ever be enforced would depend on whether Page kept the tapes, which are the building blocks for the eight-minute song. If such recordings ever make it to court, they could make for amazing listening.
Page, speaking to France's Liberation newspaper in May, called the infringement claim "ridiculous." A spokesman for the band and its record company, Warner Music, didn't immediately respond to a request for comment on the suit. Led Zeppelin members and the company had issued no comments for earlier stories on the dispute, the spokesman, Jason Elzy, said.
The crux of the claim is that, to many ears, the opening notes of Stairway to Heaven sound a lot like Taurus, an instrumental piece by California that was released on Spirit's debut album in 1968. At the end of that year and through 1969, Spirit and Led Zeppelin shared the bill at several concerts. According to the suit:
"Substantial similarity between 'Taurus' and 'Stairway to Heaven' is established because, to a reasonable observer, the iconic notes, melody, chord progression, structure, tempo, instrumentation, and feel of 'Stairway to Heaven' sound almost identical to Plaintiff's protected expression in 'Taurus.'"
California, who was born Randy Craig Wolfe, drowned in 1997. The suit was brought by the Randy Craig Wolfe Trust, which handles his intellectual property rights and donates royalties to a program that gives music lessons and instruments to children in low-income schools.
The suit, which is being handled by Philadelphia lawyer Francis Alexander Malofiy, demands compensatory damages, profits, and punitive damages "to punish the Defendants for their outrageous and duplicitous conduct." It also demands a writing credit for California on Stairway to Heaven. "The public interest would be served by such an acknowledgement as it would be made aware that Randy was key writer and creator of the greatest rock song ever written," the suit says.