Karachi Shops Shut, Buses Stop as Hussain Questioned in U.K.
Khurrum Anis and Faseeh Mangi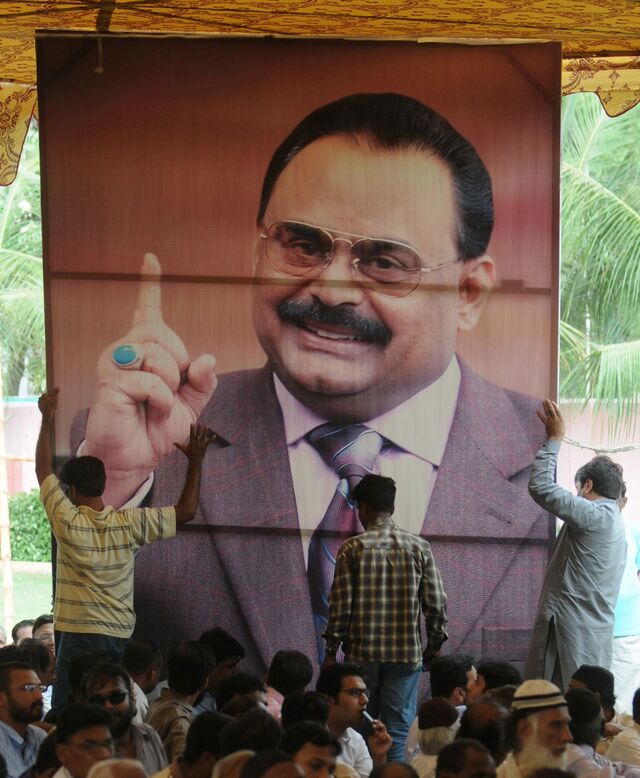 Shops closed and public buses stopped operating in Pakistan's biggest city a day after U.K. police questioned Karachi's most powerful political figure as part of a money-laundering investigation.
About 400 people blocked one of Karachi's main streets to protest the U.K.'s treatment of Altaf Hussain, Karachi police spokesman Atiq Shaikh said by phone. Hussain, the 60-year-old head of the Muttahida Qaumi Movement, or MQM, was taken to a London police station yesterday to be interviewed, Nasir Jamal, Hussain's spokesman, said by phone from Karachi.
"We have kept our vehicles off all roads in a show of support for Altaf Hussain," said Irshad Bukhari, president of Karachi Transport Ittehad, which says it represents about 200,000 rickshaws, taxis and buses in the city. "Hussain is like a brother to us, and we wanted to show the MQM that we are equally worried about him."
Hussain's detainment led to gunfire around Karachi yesterday as Pakistan stocks fell the most in a month on concerns that his legal troubles will lead to a power vacuum in the city, which generates about half of Pakistan's revenue. The MQM won 17 of the 20 Karachi seats in National Assembly elections last year, and Hussain's photo can be seen on billboards and banners throughout the city.
"I would expect massive unrest, violence and protests and the city coming to a standstill," Adil Najam, a professor for international relations at the Boston University, said in an e-mailed comment. "A Karachi out of control will not only destabilize the already unstable Pakistan but can have global ripples."
Man in Hospital
The KSE-100 index fell 0.2 percent at 3:18 p.m. local time. Yesterday, it pared its losses and finished the day down 1 percent.
A London police spokesman today said the 60-year-old man who was arrested yesterday on suspicion of money laundering was kept in a hospital overnight at the request of doctors and remained there in the custody officers. He declined to identify the individual by name.
The Pakistan High Commission in London has been asked by Prime Minister Nawaz Sharif to look into Hussain's case, state-run Pakistan TV reported today.
Wholesale markets in the city remained closed because of a fear of arson attacks and destruction of property after cars were torched yesterday as men with guns roamed the city, Atiq Mir, president, Karachi Tajir Ittehad, said by phone. Retail shops also remained closed.
Call for Calm
MQM leaders in the city told supporters to remain calm and distanced themselves from sporadic violence around Karachi. Party members are protesting in the middle of the road next to the mausoleum of Muhammad Ali Jinnah, the country's founding father, demanding Hussain be freed from police custody.
The protests will continue until it is clear that Hussain is physically and psychologically safe in London, Farooq Sattar, a local MQM leader, said today in Karachi.
"Peaceful protest is the policy of the MQM, not what is happening elsewhere in the city," Sattar told reporters in televised comments. "We have told our workers to keep an eye out for miscreants trying to make our protest or the party look bad."
Hussain has been living in the U.K. for the last 22 years, after leaving Pakistan to escape a crackdown in 1992 ordered against criminals by Nawaz Sharif, who was prime minister then. Hussain has said that MQM leaders and party members were targeted. Sharif was elected the nation's prime minister again last year.
Insecurity
The MQM's supporters are generally people who migrated to Pakistan from what is now India at partition in 1947 or their descendants.
"The Urdu-speaking community feels it got its identity through Hussain," Rashid Ahmed Khan, head of the international relations department at the University of Sargodha in Punjab province, said by phone. "So it feels insecure without him, almost like an uncertain future."
Since the 1970s, Karachi has been racked by violence among armed wings of political parties and criminals linked to weapons suppliers and drug mafias. As many as 10,693 people were killed between 2008 and 2012, according to the Human Rights Commission of Pakistan, more than the number of U.S military forces killed during the Iraq and Afghanistan wars.
Political and communal killings have escalated since a 2008 military offensive against terrorists in the country's north. Militants, escaping the fighting there, have migrated to the city of 20 million and engaged in extortion, kidnapping and bank robbery to fund their activities.
Business centers in Hyderabad city, Nawabshah and Mirpurkhas, all in southern Sindh province also shut down after reports of Hussain's arrest emerged, Ary News reported yesterday.
Before it's here, it's on the Bloomberg Terminal.
LEARN MORE