Now Joined to Russia, Crimea's Economy Is Sliding Downhill
By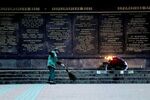 The geopolitical crisis touched off by Vladimir Putin's annexation of Crimea seems to be easing. But for the 2 million residents of Crimea, another crisis is just beginning.
Despite the peninsula's cultural and historical ties with Russia, Ukraine has been its economic lifeline, supplying everything from food and banking services to Ukrainian vacationers, who accounted for 70 percent of Crimean tourism. As those connections have frayed or broken, Crimea faces deepening economic woes.
The tourism industry has fallen off a cliff, the banking system is in turmoil, and prices are rising as Russia curbs shipments from Ukraine. Even McDonald's has fled, closing its three restaurants on the peninsula. Russia has promised aid—including plans for a Las Vegas-style gambling zone in Crimea—but that won't come quickly enough to avoid what Crimean Prime Minister Sergey Aksyonov has described as "temporary economic difficulties."
The blow to tourism has been especially severe. Hotels that normally would have been fully booked in May were barely breaking 10 percent occupancy, a Crimean tour-agency director said at a tourism trade show in Moscow last month, according to the Moscow Times.
Crimea's tourism ministry estimates that half the peninsula's population draws some income from tourism. "We've lost a lot because of the unstable situation," says Mikhail Buzhenkov, director of the Porto Mare hotel in the Black Sea coastal town of Alushta. Like other Crimean hoteliers, Buzhenkov hopes to lure back some Ukrainian visitors while attracting more guests from Russia. "People are starting to come," he says, "but there's a lot more work to be done."
Food prices are rising as new border controls are restricting food shipments to the peninsula, according to the International Center for Policy Studies, a Kiev-based think tank. Russian customs agents, citing health regulations and other restrictions, are refusing to accept some shipments from Ukraine, which until recently accounted for 80 percent of the food on Crimean store shelves, says Iaroslav Kovalchuk, an analyst at the center. "We estimate that prices may rise by 25 or even 50 percent over the next few months," Kovalchuk says. While Russia has increased monthly stipends to Crimean pensioners by 50 percent and is raising the salaries of public servants, "they will not feel it if prices rise."
The shutdown of Ukrainian-regulated banks in Crimea, and the switch on June 1 from the Ukrainian hryvnia currency to the Russian ruble, have added to the difficulties. Almost every bank on the peninsula has closed, leaving clients to apply to Russia's deposit-insurance agency to get their savings back. (Russia has guaranteed coverage for accounts of as much as $20,000.) Most business transactions in Crimea are now cash-only, because credit and debit cards no longer work.
Crimea was poor to begin with. Its per capita gross domestic product is about $2,500, roughly one-fourth the figure in the Ukrainian capital of Kiev. Russia has promised to pump as much as $48 billion into Crimea over the next decade, including for new roads, airport improvements, and construction of a 5-kilometer bridge to connect the peninsula to the Russian mainland. Still, there's no guarantee Russia can deliver on that promise, as its own economy is sliding toward recession.
For now, Crimea seems more cut off from the rest of the world than ever. Its Black Sea shipping industry, another economic pillar, has been largely idled because of the turmoil. "An economic and political blockade is in place," Valery Belyakov, deputy head of the Temryuk port in Russia, tells Bloomberg News. Ordinarily, Temryuk does brisk trade with Crimea. Now, Belyakov says, "Crimea's main ports are in a state of legal limbo."
(
Corrects spelling of Alushta in fifth paragraph.
)
Before it's here, it's on the Bloomberg Terminal.
LEARN MORE