D-Day Beach Warmth Belies Tensions in U.S.-France Ties
Matthew Campbell, Francois de Beaupuy and Margaret Talev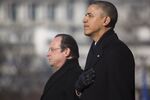 France is selling weapons to Russia in defiance of American efforts to isolate President Vladimir Putin. The U.S. is preparing to slap France's largest bank with a fine that could top $10 billion. French government ministers have sought to derail General Electric Co.'s bid for France's top energy-equipment maker.
As Barack Obama and Francois Hollande prepare to meet on a Normandy beach this week to mark the 70th anniversary of D-Day, the relationship between the countries is getting chillier.
"We are transitioning to an era where the bilateral relationship with the Americans, and the broader EU, is looking more difficult for the French," said Mujtaba Rahman, the head of the Europe practice at political consultancy Eurasia Group. Under former President Nicolas Sarkozy, "the French were far more relevant and effective at pressing home their points in Washington."
The increased tensions come after a period of improvement in relations from a decade ago, when the governments of George W. Bush and Jacques Chirac clashed bitterly over the invasion of Iraq. In February, Obama gave Hollande a full state dinner -- an increasingly rare honor reserved for the most important U.S. partners.
While France and the U.S. are still working together on a range of issues, they're drifting apart in some key areas as Hollande grapples with a stagnant economy and the rise of the anti-EU National Front, which advocates ending the transatlantic alliance. France, Europe's second-largest economy, will be critical to progress on a proposed EU-U.S. trade deal.
"The French government has so many problems on its hands, and we can't blame them on the U.S.," said Philippe Moreau Defarges, a researcher at the French Institute of International Relations in Paris.
Landing Craft
The countries' differences will be on display the evening before the June 4 D-Day ceremony. Just after talks with Obama, Hollande plans to see Putin -- invited to Normandy to recognize the Soviet Union's role in defeating Nazi Germany. The meeting at the Elysee Palace will be Putin's first with a head of state from the North Atlantic Treaty Organization since he took over Crimea.
Although Hollande's government has called for an end to violence in Ukraine and condemned the Crimean annexation, it has resisted U.S. pressure to cancel the sale to the Russian Navy of Mistral-class helicopter carriers manufactured by DCNS SA -- a state-controlled shipbuilder 35 percent owned by Thales SA.
Almost two football fields long and designed to carry landing craft and more than a dozen choppers, the carriers are an ultra-modern version of the vessels used for the Normandy landings. Russian sailors are scheduled to visit France for training on operating the vessels, though no date has been set.
Western Front
Hollande, Obama, Putin, U.K. prime minister David Cameron and German chancellor Angela Merkel will attend this week's commemorations. A series of ceremonies will mark the 1944 invasion led by British, American, and Canadian forces that opened the Western Front against Germany.
An official in Hollande's office said that despite points of concern such as the Mistral deal, there has been no cooling of relations between France and the U.S. Hollande has in the past said that the Mistral delivery isn't covered by the current sanctions.
Amid the crisis in Ukraine, Goldman Sachs Group Inc. CEO Lloyd Blankfein, Morgan Stanley's James Gorman, and PepsiCo Inc.'s Indra Nooyi canceled plans to attend last month's St. Petersburg International Economic Forum, a high-profile annual conclave championed by Putin.
Siberia Deal
French business leaders weren't nearly as restrained. Chief executives of companies such as Alstom SA, Total SA, and Schneider Electric SA traveled to the former Imperial Russian capital. In St. Petersburg, Total CEO Christophe de Margerie signed a contract to seek shale oil in Western Siberia with OAO Lukoil, Russia's biggest private energy company. A week earlier, de Margerie said it was "business as usual" in Russia even as the U.S. and Europe ratcheted up sanctions.
The situation in Ukraine appears to be "improving, and certainly that's good news for businesspeople," said Tom Enders, CEO of Toulouse-based planemaker Airbus SA, who didn't attend the St. Petersburg meeting. "All sides are trying to de-escalate rather than escalate."
Some French executives got a call from the U.S. embassy or a former U.S. envoy in Paris advising them not to go to St. Petersburg, according to staff at French companies who asked not to be identified discussing private communications. Others, who also declined to be named, said they received no such calls. Spokesmen for all of the companies declined to comment.
Inappropriate Message
Jennifer Psaki, a spokeswoman for the State Department in Washington, said she wasn't aware of conversations with foreign companies about the event, although the U.S. believed attendance by top executives "would send an inappropriate message, given Russia's behavior."
French companies aren't alone in seeking to limit the damage to relations with Russia, where many have built large operations. Executives in Germany, Russia's largest European trading partner, have urged caution in imposing sanctions and have continued to visit Moscow -- a stance for which Siemens AG CEO Joe Kaeser was publicly rebuked by Vice Chancellor Sigmar Gabriel.
Meanwhile, some in Paris are opposing the highest-profile recent example of deepening Franco-American commercial relations. Officials led by Economy and Industry Minister Arnaud Montebourg have sought to block GE's proposed $17 billion acquisition of the bulk of Alstom, instead supporting a counteroffer from Germany's Siemens AG. Montebourg said in an April 28 Twitter post that Patrick Kron, Alstom's CEO, had shown a "lack of national ethics" by agreeing to the GE deal.
"GE-Alstom has become an object for the French government to score points with its constituents," said Pepe Egger, an analyst at research firm IHS Inc. in Berlin.
$10 Billion Fine
GE chief Jeffrey Immelt appeared before France's National Assembly last week after some close to the company suggested an appearance might help his case amid a threat of rising protectionist sentiment in the government, according to a person with direct knowledge of the matter. A GE representative said Immelt spoke before parliament to defend the bid in advance of a meeting with Hollande the following day.
Commercial relations could be further strained by BNP Paribas SA's predicament. The bank may be forced to pay more than $10 billion -- the largest criminal penalty in U.S. history -- to settle American allegations that it violated sanctions with transactions involving Sudan, Iran, and Cuba, people familiar with the discussions have said. French government officials say Hollande will raise the issue of the fine when he meets with Obama this week.
German Surrender
A fine of such magnitude would reflect "unilateralism that is very serious and will have grave consequences," French Foreign Minister Laurent Fabius said on France 2 television today. The government, he said, is "certain to defend BNP."
Despite their differences, France and the U.S. continue to work together to contain Iran's nuclear program, combat Islamic militancy in North Africa, and to enforce a deal to limit chemical weapons in Syria.
Yet there's a certain historical resonance in the tensions that will be simmering under the surface in Normandy this week. After the 1944 invasion, Allied troops had planned to bypass Paris in favor of an all-out drive to Berlin. French wartime leader Charles De Gaulle would have none of it. Defying Dwight Eisenhower, the commander of the Allied forces, his troops on Aug. 21 made a dash for the capital. Four days later, the Germans surrendered the city.
Before it's here, it's on the Bloomberg Terminal.
LEARN MORE