Citic Once Courting Rockefeller to Go Global in Hong Kong
Shai Oster and Cathy Chan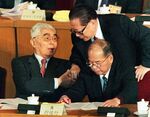 In 1979, as paramount leader Deng Xiaoping reopened China's depleted economy, he invited some old industrialists who had survived the revolution for a lamb hot pot lunch in a cigarette smoke-shrouded room.
Their brainstorming session gave rise to Citic Group, the pillar of a revitalization plan to lure foreign investment and blaze communist China's capitalist path. Citic grew into China's biggest diversified company with total assets of $669 billion by the end of 2013 and interests in everything from real estate to banking to golf.
Now, the government is turning again to Citic, this time to lure more private investment to inefficient state-owned enterprises and to aid its global ambitions by acquiring companies overseas. Politically, in a bid to boost its impact in the former British colony returned to Chinese rule in 1997, China is moving the majority of Citic's assets from Beijing to Hong Kong. Citic is ultimately controlled by the State Council and Communist Party.
"Citic's restructuring is part of the Chinese leadership's new push to overhaul the governance and financial performance of state-owned enterprises, which have been terrible," said Andrew Batson, Beijing-based China research director at Gavekal Dragonomics, an economic research firm.
Losing Popularity
The shift comes as tension is simmering over China's role in Hong Kong's political system, and demonstrations calling for more democracy are a weekly fixture in Hong Kong's streets. China is losing popularity -- with investors, as stocks continue to fall on fears of continued economic slowdown, and with citizens who chafe at an influx of mainlanders blamed for everything from rising property prices to crowded subways, shops and even maternity wards.
"Beijing wants to step up influence, especially in the last couple of years, as Hong Kong is increasingly seen as disobedient due to the desire for political reforms," said Joseph Cheng Yu-shek, professor of political science at City University of Hong Kong. If Citic's move is seen as successful, "other Chinese enterprises will follow suit."
The plan, announced in March and to be completed by August, involves Citic's Hong Kong holding firm, Citic Pacific Ltd., paying the parent $36 billion in cash and stock for at least 29 China subsidiaries, which had $52 billion in total equity and $598 billion in liabilities as of December. In doing so, Citic gets to rejuvenate the once-high-flying Citic Pacific, whose troubled history includes billion-dollar losses on currency bets and a struggling Australian mine. Citic will also be able to merge overlapping businesses that currently compete with each other in areas such as real estate and steel.
Win-Win
"It's a win-win deal," Chairman Chang Zhenming, 57, said at a press conference in Hong Kong in April, comparing the size of the new Citic, which he estimates will be $40 billion in market value, with the biggest conglomerates in the world including Berkshire Hathaway Inc., with more than $300 billion. "Now we're becoming one company and it will generate value through mergers, integration and carve outs."
The shift also provides Citic the ability to raise cash and to make acquisitions abroad, giving it freer rein to act commercially even as its mandate remains intertwined with politics. A Citic governed by the free markets of Hong Kong, away from Beijing regulators such as the National Development and Reform Commission, could deflect opposition that thwarted other state-owned companies such as Cnooc Ltd. and PetroChina Co. in overseas acquisitions. Such deals totaling more than $90 billion were terminated in the past decade, data compiled by Bloomberg show.
Global investors, through the Hong Kong Stock Exchange, will be able to buy into Citic's diverse lines of business. Top executives including Chang will divide their time between Beijing and Hong Kong.
New Wave
Citic's goals align with President Xi Jinping's agenda. Rising debt and a lumbering state-owned sector threaten to throttle the economy as previously brisk economic growth cools. So the president has ordered China to start opening up its protected state-owned enterprises to more private and foreign investment to improve efficiency. Citic will provide a model.
"The plan provides tangible evidence of a new wave of SOE reform in China," according to Bloomberg Industries analyst Tim Craighead. "Similar strategies could be pursued by the more than 40 other SOEs with Hong Kong units."
Gross domestic product in China is targeted to grow 7.5 percent this year, the slowest pace since 1990. Some 80 projects in China's controlled industries including railways and ports were opened for investment shortly after Citic's transformation was announced.
'Red Capitalist'
Citic has been at the forefront of China's economic and financial experiments from the moment Deng shared the hot pot with Rong Yiren, the scion of one of the country's richest families who had stayed behind after 1949 to cooperate with the communists as his siblings fled the civil war.
Dressed in a Western suit while others donned Mao jackets, Rong oversaw the nationalization of the family fortune, joined the government and was purged during the Cultural Revolution for his capitalist roots, according to published official records and archival photos.
The rehabilitated man often called the "red capitalist" in China's state-run media was then tapped by Deng to run Citic. Before long, Rong was meeting with financier David Rockefeller, setting up an investment company with Henry Kissinger and pioneering Chinese overseas investment as early as 1985 in everything from a Hong Kong bank to a U.S. steel mill.
Many Firsts
To tap foreign capital markets and fuel the growth of state-run companies back home, the government enlisted Citic to create the first so-called red chip stocks in Hong Kong, Citic Pacific, in 1991. When China needed to raise hard currency abroad, Citic was the first to issue offshore bonds. When China wanted greater influence over television broadcasts, Citic backed the launch of China's first commercial satellite. When China needed to upgrade its army, it turned to Citic to found what became arms-maker Poly Group.
Along the way, Rong's son, Larry Yung, became one of the richest men in China. He was named chairman of Citic Pacific in the early 1990s, presiding until 2009 when he stepped down after a currency-derivative loss of about HK$15 billion ($1.9 billion), at the time the biggest by a Chinese company.
Always at the nexus of politics and business, founder Rong became China's vice president in 1993. A statue of him greets visitors in the lobby of Citic's Beijing headquarters, where only members can ascend to the penthouse Capital Club, opened as China's first business club in 1994 for the elite to mingle with global executives over French wine and rillettes.
Close Ties
Rong's successors also had close ties to the party. Wang Jun, who became chairman in 1995, was the son of a revolutionary general. The father of his successor, Kong Dan, was director of Central Investigations, which ran counterintelligence in the 1960s. Top executives are still appointed by the Politburo, which runs the Communist Party. Chang, whose first job was shoveling coal, was praised for his "firm political positions" in the announcement of his chairmanship in 2010.
Citic Pacific was set up through a backdoor listing in Hong Kong when the parent acquired a company with real estate and aviation interests. It expanded into telecommunication, toll roads and power generation in Hong Kong and China. Currently its steel, iron-ore mining and property development businesses make up 70 percent of assets, according to the company.
The newly combined entity, with financial services, resources and energy accounting for more than half of its revenue, would have reported an estimated HK$48 billion of net income for 2013, compared with HK$8 billion for Citic Pacific alone, the company said.
'New Look'
Shares of Citic Pacific initially rose 31 percent the day after the March announcement. At HK$13.54 at the end of last week, the stock price remains far below its peak of HK$50.75 in March 2000.
Citic's listed subsidiaries, including China Citic Bank Corp. and brokerage Citic Securities Co., will continue to trade as separate businesses. Citic Group will still exist as the shareholder of as much as 85 percent of the new Citic Ltd.
"This will give Citic Pacific a completely new look and focus, prompting investors to reevaluate the company and new business opportunities," said Tim Leung, a Hong Kong-based portfolio manager who helps oversee $1.5 billion at IG Investment Ltd.
'Financial Burden'
For the first time, Citic's publishing house and trust-investment unit will be listed. Citic Trust Co. is the largest of China's 68 licensed trust companies, which as part of China's world of shadow banking offer high-yield returns mostly to wealthy individuals by investing in risky sectors such as real estate and mining.
"No one has even seen some of the businesses in this group, such as publishing, tourism and trusts, being listed before in China," said Chang. "It's certainly an innovation."
Citic's plan to transfer its assets prompted Standard & Poor's to consider raising Citic Pacific's credit rating, which will enable the firm to issue more, cheaper debt to funnel to projects such as the Australia iron-ore operation, which has been beset by overruns and delays. Chang at the press conference called it a "financial burden" and previously likened efforts to turn around the venture, which cost four times more to develop than its estimated $2.47 billion cost, to Winston Churchill's North Africa campaign.
Shifting to Hong Kong alone won't guarantee better returns or good corporate behavior. Listed parts of Citic are already trading below book value, such as China Citic Bank Corp., China's eighth-largest lender.
Market Discipline
"Being listed in Hong Kong doesn't bring any market discipline," said Fraser Howie, co-author of the book "Red Capitalism: The Fragile Financial Foundation of China's Extraordinary Rise." "Look at any red chips, look at Citic Pacific. What was the international restraint that stopped them from doing that disastrous mine in Australia?"
Chang said in a letter last year to his bosses that basing Citic in Hong Kong would boost Beijing's presence in the former British colony, said a person with knowledge of the correspondence who asked not to be identified because the letter was confidential.
Joyce Ho, a Hong Kong-based spokeswoman for Citic Securities, which advised Citic Pacific on the transaction, declined to comment on the approval process or the company's motivations.
Citic's move to Hong Kong is part of broader shift in financial power following the U.K.'s handover of Hong Kong to China in 1997, said Yiu-chung Wong, head of the political science department at Lingnan University in Hong Kong.
"In colonial times, Hong Kong was dominated by British capital. They all sold to Hong Kong tycoons. Hong Kong capital dominated until now," he said. "As China becomes an economic power it is moving in to take over Hong Kong."
(An earlier version of this story was corrected because the second paragraph contained an erroneous asset value.)
Before it's here, it's on the Bloomberg Terminal.
LEARN MORE