3 Things You May Have Missed in Apple's Developers Conference
By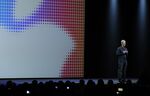 Apple's annual conference for software developers kicked off today. I've been to nearly 20 of these events — from the very dark days of the mid-1990s to the ridiculously good last decade or so. This one was not without its surprises.
The biggest news in Apple land right now is the $3 billion acquisition of Beats, but we didn't get anything new on that besides an innocuous phone call to Dr. Dre on stage. Instead of headphones, today's event was all about software. Here are three things that stood out from the event:
Apple Plays Catch-Up in Online Storage and Messaging: Apple is getting into the online storage business with iCloud Drive. The service makes documents available on Macs, iOS devices and Windows. It will be interesting to see how the iCloud team, which has come under fire for some miscues over the past few years, pulls this off when there are so many alternatives, including Dropbox, Google Drive and Microsoft's OneDrive. Apple will soon let users store not only photos but also videos, and lots of them. Prices are reasonable: 200 gigabytes for $4 a month.
The Messages app is getting some Snapchat-like features: Hold down the camera button to send a picture or video, or the microphone button to send an audio message. All of these can self-destruct. Sound familiar? And Apple one-ups Snapchat in one way: You can listen to an audio message simply by lifting the phone to your ear. Speak a response, and your message is sent when you lower the phone. There's also group messaging similar to WhatsApp. If you click on a "details" button, you can see information such as friends' locations. (Each person can share their location for a specified period of time.)
Continued Focus on China: Apple hasn't been shy to discuss the importance of the largest mobile market to its business. The latest versions of the iPhone and iPad were each made available for the first time in China on the same day as the U.S. Apple has even started holding little shindigs in Beijing. At today's event, Apple CEO Tim Cook boasted about how nearly half of iPhone customers in China in the past six months had switched from Android. The presentation also devoted a slide to new features geared toward China, which includes "greatly improved maps," support for the lunar calendar, better weather data and improved Chinese-language input. This is all crucial as Xiaomi and other Chinese upstarts squeeze Apple further on their home turf.
Geeky Stuff That Could Be Important Later On: Non-techies will find part of today's presentation difficult to follow, but this is a developers conference after all. One abstruse announcement that has potentially big implications: Apple introduced a totally new programming language called Swift. This got the biggest collective "woah" from the coder crowd. This is akin to announcing a new alphabet. "You know how many people at home are saying: What the heck are these guys talking about?" joked Craig Federighi, Apple's head of software development.
Developers were also psyched to learn that Apple is finally letting third-party apps take advantage of Touch ID, the fingerprint sensor on the iPhone 5S. That could mean no more having to type login information into each app. Apple is also adding HomeKit, which includes new tools so all those garage doors, thermostats and smart light bulbs can be operated securely through Apple's system. The company worked with a dozen or so home-automation companies on a new protocol — essentially a language only they know so that no one can crank up your heat or make other trouble while you're on vacation.