Biden Makes a Habit of Dissing Chinese Innovation
By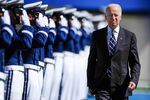 It's starting to look like a habit: U.S. Vice President Joe Biden once again has vented on China, this time while giving the commencement address on Wednesday to nearly 1,000 cadets at the U.S. Air Force Academy in Colorado Springs.
While heralding American ingenuity, the vice president said that China, by contrast, had not developed "one innovative project, one innovative change, one innovative product." How did the straight-shooting—or notoriously gaffe-prone, to the less charitable—politician come to dissing China's creative prowess this time? He started by giving a shout-out to American enterprise.
Despite facing down the great recession of 2008, the U.S. is getting back into pole position, Biden explained:
"We are the world's largest GDP. We have the most innovative companies and productive workers, the finest research universities in the world, an entrepreneurial instinct that is unmatched by any country in the world. And within a decade North America will be the epicenter of energy in the world, not the Arabian Peninsula."
Then Biden did a little reminiscing back to commencement speeches of the 1990s:
"The line some of you will remember—some of you who are older will remember—was that Japan was going to eat our lunch, that Japan was the future," he said. "We also used to be told that China—and it's true—is graduating six to eight times as many scientists and engineers as we have."
Then Biden threw down the gauntlet: "But I challenge you, name me one innovative project, one innovative change, one innovative product that has come out of China. And I want Japan to succeed, as I do China. But give me a break," he said.
In March of 2012, Biden also criticized China's inventive ability, then while speaking to students at Iowa State University. "Why have they not become [one of] the most innovative countries in the world? Why is there a need to steal our intellectual property? Why is there a need to have a business hand over its trade secrets to have access to a market of a billion, three hundred million people? Because they're not innovating," he said.
And that's because "it's impossible to think different in a country where you can't speak freely. It's impossible to think different when you have to worry what you put on the Internet will either be confiscated or you will be arrested," Biden explained at the time. "Innovation can only occur where you can breathe free," he said again, while visiting Beijing in December of last year.
Before it's here, it's on the Bloomberg Terminal.
LEARN MORE