pursuits
Michael Kors Seeks 'Jet-Set' Status Despite All-American Customers
By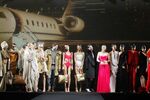 Make no mistake: Michael Kors is for the jet-set—the well-capitalized consumers who flit around the world from one well-curated closet to the next. The high-end design house has seized on the term like a politician with a talking point.
In a conference call Wednesday morning, the Kors marketing team jammed eight mentions of "jet set" into the script, up from six in the year-earlier period. Here are just a few blurbs from Kors Chief Executive John Idol:
• "We've made Michael Kors synonymous with fashion leadership and jet-set luxury. That philosophy is at the heart of everything we create."
• "We've been able to build up on the foundation of Michael Kors jet-set vision."
• "Everything we do embodies our jet-set luxury brand."
Translation: Road-trippers should stick with Ralph Lauren. It might just be a heavy-handed masterstroke of marketing. For a luxury company, branding can be a delicate balance of trying to appear exclusive without being snooty, expensive yet accessible, haute but not trendy.
Words such as "rich" or "wealthy" don't cut it. "Jet set," meanwhile, sits in a harmless middle ground. It calls to mind a wide demographic, from continental socialites to hard-charging business professionals, to trust-fund twenty-somethings on a grand tour.
The thing is, Kors arguably isn't very jet-set at all, unless its executives are referring to travel between Minneapolis and Omaha or Oklahoma City and Tulsa. Although it makes an opulent camo carry-on bag ($598), 81 percent of the company's sales come from North America.
From that perspective, it's an aspirational term. Kors is yearning to be a big global fashion house like some of its rivals across the pond. Prada gets only 22 percent of its sales from Europe, Burberry does about one-third of its business in the European Union, similar to LVMH Moet Hennessy Louis Vuitton. Even New York's Coach gets 34 percent of its sales from outside the U.S.
In particular, Kors wants to crack Asian markets, something it says American luxury companies have largely failed to do (with Tiffany being the exception). The more international fashionistas recognize the brand, the more likely they are to buy some Kors when they jet to the U.S. with wallets full of powerful euros or pounds. No wonder the company plans to increase by 50 percent the number of stores it has in airports.
But Kors isn't Prada or Burberry, and that's a good thing. Sure, it sells $3,000 handbags made out of pythons, but it has become a stock-market darling because it so good at splitting its potential customers by price. For the wealthy, it has its MICHAEL line, and for the less affluent, it offers KORS. In travel terms, that's "first-class" and "coach."
Missouri housewives don't have to go far to be jet set—Kors has a store in St. Louis.
Before it's here, it's on the Bloomberg Terminal.
LEARN MORE