Japan Retail Sales Fall at Record Pace After Tax Increase
Keiko Ujikane and Chikako Mogi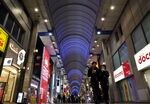 Japan's retail sales dropped at the fastest pace in at least 14 years last month after the first consumption-tax increase since 1997 depressed consumer spending.
Sales in April declined 13.7 percent from the previous month, the trade ministry reported today, more than the median forecast of an 11.7 percent decline in a Bloomberg News survey of 11 economists.
The drop-off follows a consumer splurge ahead of the April 1 tax increase, and highlights the task Prime Minister Shinzo Abe faces in steering the nation through a forecast contraction this quarter. The focus now is whether the economy will rebound enough for the government to further raise the levy as planned.
"Consumption will likely bounce back after a fall-off in demand, but the pace will probably be slow," said Hiroaki Muto, a senior economist at Sumitomo Mitsui Asset Management Co. in Tokyo. "The government will probably push through the second tax increase, though it may add fiscal stimulus to cushion any slowdown."
The Topix stock index was down 0.1 percent as of 10:22 a.m. as the yen extended gains. The Japanese currency strengthened 0.1 percent against the dollar to 101.72.
Sales in April fell 4.4 percent from a year earlier, with drops in all sectors including autos, clothing, food and beverages.
Vehicle deliveries last month fell to the lowest since December 2012, with sales at Toyota Motor Corp. and Mazda Motor Corp. the lowest since 2011, according to industry figures.
Forecast Contraction
The economy is forecast to shrink an annualized 3.4 percent this quarter after 5.9 percent growth in the first three months of the year. Even so, gauges of business spending to consumer sentiment indicate the setback from the three percentage point tax increase could be fleeting.
Machinery orders -- a leading indicator of private capital expenditure -- rose at the fastest pace since 1996 in March and companies plan further increases this quarter.
A measure of sentiment on Japan's economic outlook among taxi drivers, restaurant staff and other workers soared by a record in April, according to the Cabinet Office.
A "recovery in household spending will resume in the second half of the year," Marcel Thieliant, a Singapore-based economist at Capital Economics, wrote in an e-mailed note. Consumer price inflation should start to moderate soon and wage growth has shown signs of picking up, he wrote.
Before it's here, it's on the Bloomberg Terminal.
LEARN MORE