Shanghai Issues Health Warning on Heavy Pollution for Second Day
Bloomberg News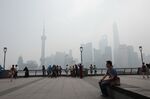 Shanghai warned children and the elderly to stay indoors for a second day as haze engulfed the city, sending PM2.5 levels to more than 9 times the World Health Organization's recommended exposure.
The air quality index was 280 as of 7 a.m., indicating "heavy pollution," which is the third worst in a six-tier warning system, according to the website of the city's environmental monitoring center. The PM2.5 pollutant reading was 230.2 micrograms per cubic meter at that time. The WHO recommends exposures of no more than 25 over a 24-hour period for particles that are smaller than 2.5 microns in diameter and more dangerous to human health than other particulate matter.
Shanghai saw record levels of pollution last year, prompting the local government to draft a pollution action plan and pledge to replace coal-fired boilers and furnaces. The pollution index surged to a record on Dec. 6, sounding the highest "severe" warning, with PM2.5 levels hitting 602.2.
At the national level, Premier Li Keqiang declared war on smog in a speech at the National People's Congress in March, vowing to shut coal-fired furnaces among other measures.
— With assistance by Gregory Turk
Before it's here, it's on the Bloomberg Terminal.
LEARN MORE