China Middle-Class Protests Turn Violent After Petitions Ignored
Bloomberg News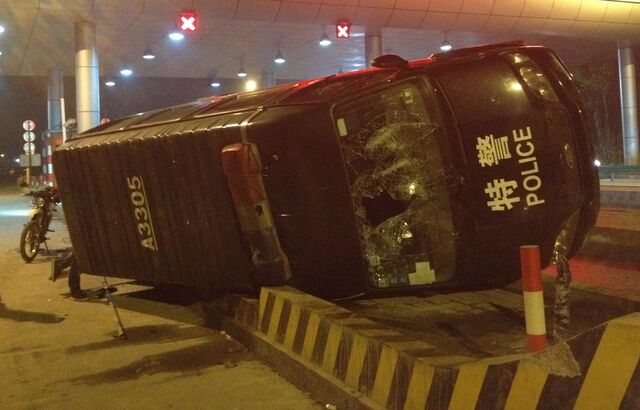 The first time Yan heard authorities planned a waste incinerator near her home in eastern China was when a petitioner gave her a leaflet warning of the pollutants it might spew into the environment.
Fearing that the burner might hurt her toddler's health, the technology worker in Hangzhou petitioned the government to halt the project before joining hundreds of protesters near the proposed site on May 10. Violent clashes erupted as cars were overturned and police vehicles set on fire.
"At the start, all people wanted was a way to reflect our concerns and grievances to the government," said Yan, who is in her 30's and asked not to be fully identified amid a government investigation.
The Hangzhou demonstrations, which prompted officials to suspend construction of the incinerator, were the third such violent protest in six weeks -- a trend that challenges President Xi Jinping's quest for social stability. The story of how poor government communication there sparked anger and then clashes with police is one being replayed across China as wealthier and better informed residents resist industrial projects more forcefully.
"The failure of local governments to consult local communities is a big issue," said Andrew Wedeman, a political science professor at Georgia State University in Atlanta. "As property owners, professionals, and possibly party members, they feel they should be consulted and it angers residents when they find out that decisions have been made without any prior notice."
Middle Class
The number of middle class Chinese will almost double from as much as 180 million to about 300 million by 2022, according to a 2013 McKinsey & Co estimate. Rising incomes, growing impatience with pollution, and a worry about "nuisance facilities" affecting home values are empowering more Chinese to push back against projects. So too, Wedeman said, is their demand for transparency and accountability from the ruling Communist Party.
In Hangzhou, an hour by train from Shanghai, word of the incinerator spread after a school principal, who has since been detained, spotted a notice on the local government website weeks before construction was scheduled to start.
Mass campaigns have succeeded in stopping industrial projects elsewhere. A planned chemical plant in the southern city of Maoming was scrapped last month after protests led to street clashes. In Guangdong province, neighboring Hong Kong, hundreds took to the streets to voice opposition to a proposed crematorium.
Record Smog
Three decades of rapid industrialization have pushed air-pollution in major cities to record levels, often reaching several times the level the United Nations says threatens human health. Food supplies are also at risk as China's soil is laced with pollutants including mercury and arsenic, according to a nine-year government survey released last month.
Reporting on the Hangzhou protests, the state-run Xinhua News Agency said 60 people were detained for "their violent and rumormongering behavior." At the same time, it said the local government pledged not to build the incinerator without public support.
Xinhua followed with a story on May 14 that quoted a member of the Zhejiang Academy of Social Sciences as saying the lack of public participation in government decision-making is the root of residents' distrust. The academic, Yang Jianhu, called for "a change in the government management model," according to Xinhua.
"In the Hangzhou incident, authorities only started taking residents seriously when they started blocking roads," said Wang Cailiang, the head of Beijing Cailiang law firm who specializes in property demolition and reconstruction law. "If there had been communication between the residents and authorities then you wouldn't even have got to this situation."
Voice Concerns
China's channels for citizens to voice their concerns, including polls, hearings, and websites which allow communication with local leadership are "mostly slogan and not reality," said Andrew Nathan, a political science professor at Columbia University in New York City who studies China.
"I don't think they are anxious to make a great leap in public participation, because it leads to delay," Nathan said. "Not doing so, however, provides constant opportunities for local opposition and resistance."
The posting announcing the Hangzhou incinerator was spotted in April on a scrolling list in the right-hand corner of a website. The city's trash had grown by more than 10 percent annually in the eight years to 2013, it said. Authorities invited written feedback by residents by May 2, less than two weeks away, before the start of construction.
Calls to two phone numbers at Hangzhou's propaganda office rang unanswered today and the office didn't respond to a faxed request for comment.
Emit Pollution
After word spread about the incinerator, residents interviewed by Bloomberg News said they looked online for information about its potential to emit pollution.
The district government sent people door-to-door in the neighborhood around the site, passing out a six-page pamphlet titled: "18 Questions About Garbage Disposal in City Life." The efforts were too little, too late, residents said.
"I thought the government wouldn't ignore the feelings of the local residents," said a 50-year-old resident surnamed Wang who asked not to give his full name for fear of retribution. "Many people were getting anxious after the deadline for feedback passed."
Yan said she will wait and see what happens with the incinerator proposal and will move from the area if it goes ahead..
"We saved up to buy this house with the intention of giving our child a better education, a better life," said Yan, who moved with her husband and 18 month-old son from a rural village into an apartment nearby in 2011. "If we had known we couldn't even guarantee his health, we would never have moved here."
— With assistance by Liza Lin, Zijing Wu, and Alfred Cang
Before it's here, it's on the Bloomberg Terminal.
LEARN MORE